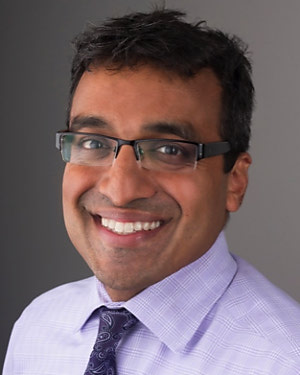 On April 25, 2018, The Lymphatic Education and Research Network (LE&RN) and the American Society for Reconstructive Microsurgery (ASRM) announced that Dhruv Singhal, M.D. (pictured at right, photo: Beth Israel Deaconess Medical Center/Harvard Medical School Teaching Hospital) would be the recipient of the first LE&RN/ASRM Combined Pilot Grant. Dr. Singhal presented "From the Initial Call…Through the Initial Clinic Visit" at the Harvard Symposium, November 3-4, 2017.
"First, I want to thank the LEARN and ASRM organizations for the distinct honor of receiving this grant," said Dr. Singhal. "I believe a strong collaboration between these two organizations will play a pivotal role in further advancing the field of lymphatic surgery. Our current study is focused on developing a novel method to measure changes in real-time lymphatic flow. If successful, I believe this would be an important step towards overcoming the keystone challenge in all of lymphedema care, that is, creating increased objectivity in measuring outcomes. Thank you again for this distinct honor and privilege."
The grant recognizes the importance of developing surgeon-scientists who are prepared to undertake innovative research in lymphedema and microsurgery. This newly established grant provides seed funding to allow researchers to conduct preliminary studies that set the stage for applications to external funding sources.
Dr. Singhal's proposal involves a study that measures the real-time flow of lymph after removal of lymph nodes with and without re-connecting the lymphatic system to the venous system. To do so, they will use, for the first time, FDA-approved dyes that "glow" the lymph so that they can measure the amount of dye that reaches the venous system. His main goal is to establish the role of these molecular dye agents for measuring real-time lymphatic flow.
---
LE&RN programs, like the LE&RN/ASRM Combined Pilot Grant, are only possible because of our Partners and Supporting Members. Become a Supporting Member today.