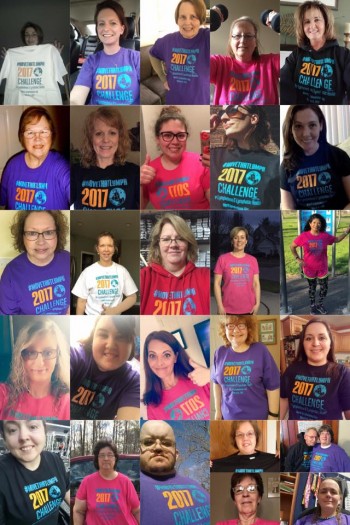 Veronica ("Vern") Seneriz, co-Chair of LE&RN's Texas Chapter, is a powerhouse activist and fundraiser.
She runs her own Facebook page (Lymphie Strong), moderates a Facebook group (Lymphie Strong Inspiration), and has spearheaded several fundraisers over the past year. Vern's employer recently matched funds Vern had raised through t-shirt sales -- making Vern's impact even greater.
Vern also conducts fitness challenges, and offers t-shirts, sweat shirts and tote bags to all who want to participate. She encourages others to do whatever they can each day, even if it's just walking to the mailbox and back. The photo at right shows just some of the people who have bought t-shirts from Vern and who have been inspired by her message.
Congratulations Vern on your amazing success, and thank you for all you do in the fight against lymphedema and lympahtic diseases.