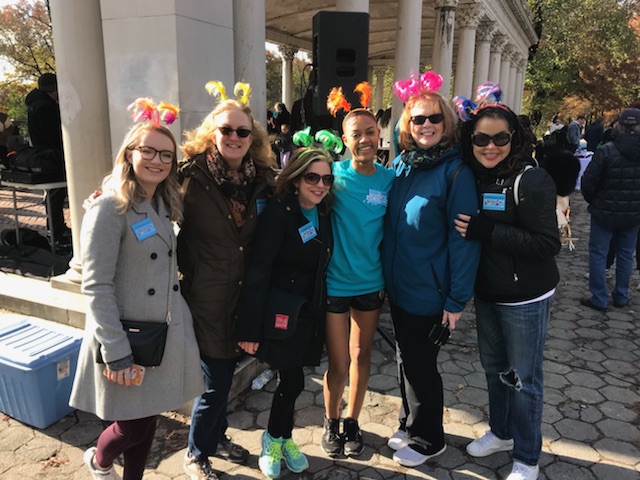 Jennifer Gachiri was excited to do her second 5K of the year in beautiful Prospect Park and hoping to do well. She did more than well. She was the first female to finish the race!
She also didn't realize that, before the day was over, she would have new friends and dedication to an important cause.
"I was immediately welcomed by a group of women, calling themselves the LymphoManiacs, in decorative headbands," Jennifer said. "I was given a headband and made an honorary member." (Jennifer, blue tee-shirt center, poses with the LymphoManiacs at the 11/10 New York #LymphWalk.)
Jennifer then listened to speeches from those in attendance. She was amazed to hear how common LE (lymphedema) and LD (lymphatic disease) are. Yet she had never heard of these diseases -- despite having two physician parents. And she was appalled at how little is being done to address diagnosis, treatments, and cures.
"I have committed myself to running twice as many 5K as I have run the year before. This year, this meant running two 5Ks," Jennifer said. "But next year, I already have another commitment. And that is fundraising with the LymphoManiacs to fight LE and LD."
Congratulations, Jennifer! We can't wait to run, walk, and fundraise with you next year!