Photo credit: Marie Apodaca. Shown: Angela Marquez, Cindy Lichtenhahn of Lymphedema Lifeline Foundation, and Marie Apodaca.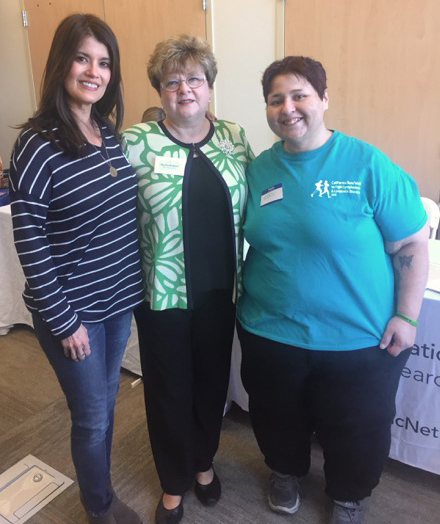 Colorado Chapter Co-Chairs Angela Marquez and Marie Apodaca represented LE&RN at the Lymphedema Lifeline Foundation's Lymphedema ED-Awareness Day in Grand Junction, Colorado, on Saturday, April 15. LE&RN Board Member Dr. Sheila Ridner, shown at right with Angela and Marie, was a keynote speaker.
Marie and Angela were able to meet up with the Lymphedema Mavens, Cynthia "Ms CJay" Judge and Christine Rowe Wunderlin, who will be serving as LE&RN Nevada State Chapter Co-Chairs. The four Chapter Co-Chairs are pictured together at bottom left.
Dr. Eric Chang of Fox Chase Cancer Center in Philadelphia and his patient Catherine Rosenberg also spoke at the event and are pictured with Angela and Marie below right. Catherine reports that she is very pleased with the results from lymphedema surgery with Dr. Chang where she experienced significant restoration of her lymphatic flow to her primary lymphedema leg.
Angela and Marie hosted an educational table for LE&RN and promoted their September 5K Run/Walk to Fight Lymphedema & Lymphatic Diseases.
These unstoppable Chapter Co-Chairs will be attending a Lymphedema Support Group meeting in Centennial, Colorado, on Tuesday evening.