LE&RN Young Investigator Conference Scholarships
LE&RN is offering a limited number of $1,000 scholarships for young investigators (PhD students and postdocs) to defray registration and travel costs associated with attending the 2016 Gordon Research Conference: Lymphatics. In addition, four travel scholarships for best poster presentations (one $1000 and three $500) will be awarded for the top posters presented at the GRC. Find out more about past award winners here and get complete details on applying for this year's scholarships here. (Pictured above: 2014 Young Investigator Conference Scholarship Winner Zerina Lokmic, PhD with Dr. Tony Penington)
#GivingTuesday/#LERNtuesday provides amazing start to year-end campaign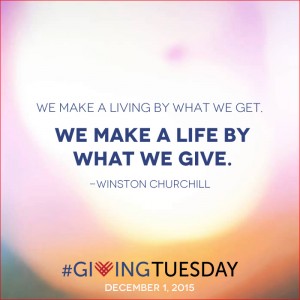 LE&RN kicked off its year-end fundraising appeal with #GivingTuesday and we are off to a great start. (Click here to check out our progress.) If you haven't yet made your year-end donation to LE&RN, please take a moment to do so now online. It's easy and safe, and your contribution may provide you with a valuable 2015 tax deduction.
Together, we have accomplished so much and there are so many good reasons to support lymphedema and lymphatic disease education, research, and advocacy. Please take a moment now and visit www.LERNtuesday.org.
Welcome Missouri!
LE&RN announced the formation of its fifth state chapter this week. Please join us in welcoming the Missouri chapter, headed by co-chairs Amy Greene and Lauren Scheidegger. If you live in Missouri, write to the Chapter co-chairs at MOChapter@LymphaticNetwork.org and get involved!
Shop for the holidays and support LE&RN with Champions for Charity
Support LE&RN while you do your holiday shopping on Long Island with Champions for Charity from Thursday, December 3 through Sunday, December 6.
Virtual Expo
LE&RN's newly launched Virtual Expo allows patients, caregivers, and others to find out more about the companies that support the lymphedema community. Check it out today.
Become a member, follow LE&RN, and spread the word
To win a fight, you first have to join it. Become a LE&RN member today for as little as $5/month. You can also show your support by following LE&RN on Facebook, Twitter, and YouTube; signing up to receive e-news from LE&RN; and by sharing information about LE&RN with friends and family.