LE&RN's year-end campaign is in full swing
LE&RN's year-end appeal campaign is now underway. Together, we have accomplished so much and there are so many good reasons to support lymphedema and lymphatic disease education, research, and advocacy. Please take a moment now and visit www.LERNtuesday.org. Giving online is safe and easy, and may provide you with a 2015 tax deduction if you give before December 31.
Welcome Florida!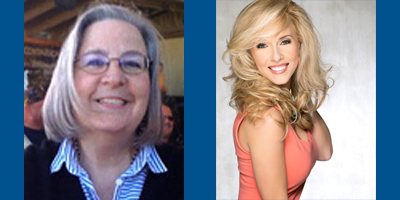 LE&RN announced the formation of its sixth state chapter this week! Please join us in welcoming the Florida chapter, headed by co-chairs Annette Gluskin-Habin and Amy Santiago (both pictured at right). If you live in Florida, write to the Chapter co-chairs at FLChapter@LymphaticNetwork.org and get involved!
LE&RN Postdoctoral Fellowship Awards Program
Applications for the LE&RN Postdoctoral Fellowship Awards Program are due Friday, January 15, 2016 3:00 p.m. U.S. Eastern Standard Time (GMT-5). These awards are made possible through a generous bequest from Dorothea M. Weitzner and are designated the HENRY M. WEITZNER, EDNA K. WEITZNER, DOROTHEA M. WEITZNER AND MORTON L. WEITZNER RESEARCH FELLOWSHIPS.
Wendy Chaite Leadership Award
The deadline for nominations for the Wendy Chaite Leadership Award is January 22, 2016.
Shop for the holidays and support LE&RN with AmazonSmile
Choose LERN as your designated charity and shop through this link at AmazonSmile. Amazon will then contribute a portion of your purchase to LE&RN.
Virtual Expo
LE&RN's newly launched Virtual Expo allows patients, caregivers, and others to find out more about the companies that support the lymphedema community. Check it out today.
Become a member, follow LE&RN, and spread the word
To win a fight, you first have to join it. Become a LE&RN member today for as little as $5/month. You can also show your support by following LE&RN on Facebook, Twitter, and YouTube; signing up to receive e-news from LE&RN; and by sharing information about LE&RN with friends and family.