pictured above from left: representatives of LE&RN Colorado Vicki Ralph, Angela Marquez (CO Chapter Co-Chair), Lance Wheeland (Chief of Staff to CO Senator Irene Aguilar), Marie Apodaca (CO Chapter Co-Chair), and Tiffany Amsallen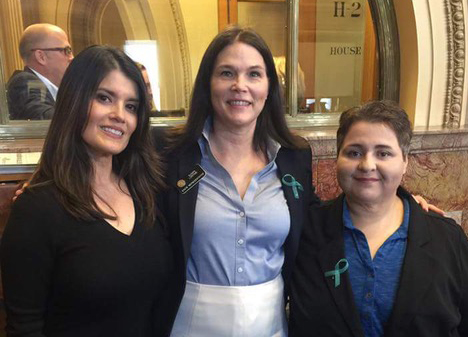 The Colorado State Chapter of LE&RN, led by Co-Chairs Marie Apodaca and Angela Marquez, headed to the Statehouse in Denver on March 6, World Lymphedema Day.
Colorado Senator Irene Aguilar and House Representative Susan Lontine (pictured at right with Chapter Co-Chairs Angela Marquez and Marie Apodaca) read tributes to LE&RN and officially declared March 6 World Lymphedema Day in the State of Colorado. (Video of Senator Aguilar's remarks can be found on the LE&RN Colorado Facebook page and below.) LE&RN Members were treated to a tour of the Capitol by Lance Wheeland, Senator Aguilar's Chief of Staff (pictured above with LE&RN Members).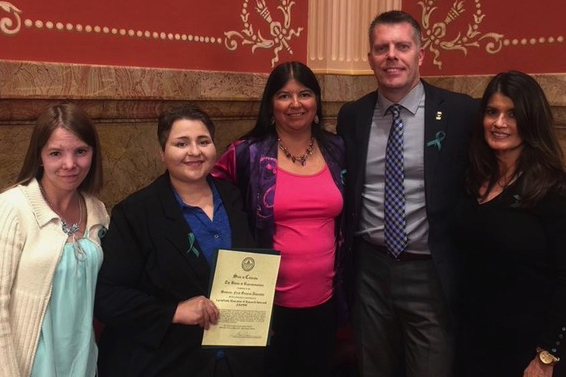 "I was very pleased to have the Colorado Senate recognize the efforts of LE&RN to address this very challenging medical issue," said Senator Irene Aguilar (pictured in the center of the photo at left with LE&RN Members Tiffany Amsallen, Marie Apodaca, Aaron Koenigseker, Angela Marquez.
"As a physician who treats people who experience lymphedema," the Senator said, "I am aware of how debilitating this condition can be. The research, treatment, and advocacy that they do is very important to me both as a policy maker and as a physician."
Denver ABC News covered lymphedema and World Lymphedema Day on the 5:00 pm news on March 6. The piece features Vicki Ralph and Angela Marquez (both pictured at the Statehouse above).
CO State Senator Irene Aguilar recognizes World Lymphedema Day on March 6, 2017, at the Denver Statehouse: