Above photo: LE&RN ED William Repicci, CO Chapter Chair Marie Apodoca, Spokesperson Kathy Bates, Scientific Advisor Dr. Stanley Rockson, GRC CEO Dr. Nancy Gray, AMA CEO Dr. James Madara, GRC COO Sarah Blendermann.
Photo below right: AMA CEO Dr. James Madara talks with LE&RN Spokesperson Kathy Bates.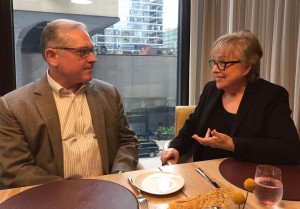 On Monday, October 3rd, in Chicago, LE&RN representatives met with the CEO of the American Medical Association (AMA), Dr. James Madara. Physician education regarding lymphedema, lipedema, and lymphatic disease is our priority. The meeting resulted in Dr. Madara asking that LE&RN submit a "Piece of my Mind" editorial for publication consideration in JAMA. Also discussed was the need for Continuing Medical Education (CME) courses being included in the AMA/JAMA Network of courses offered to physicians.

The meeting was arranged and hosted by Dr. Nancy Gray, CEO & President of Gordon Research Conference. Participants in addition to Dr. Gray included Marie Apodaca (patient and LE&RN CO State Chapter Chair), LE&RN Spokesperson Kathy Bates, Dr. Stanley Rockson, Sarah Blendermann (COO of GRC), and myself.

Prior to the meeting, we were interviewed by Fox News, which had initially planned a piece on our CO Chapter Chair, Marie Apodaca. This grew into them covering the NY Walk and the Chicago meeting. Kathy Bates, Dr. Rockson, and I were all interviewed as well. It will be distributed nationally through Fox affiliates.

Dr. Madara also suggested I contact the Ad Council. I have done so and sent a proposal for the Ad Council to create a national advertising campaign for LE.

At the meeting, Dr. Gray of the GRC told Dr. Madara that, thanks to LE&RN, the Gordon Research Conference (GRC) is changing course from its 85-year history. The patient session hosted by LE&RN at the GRC lymphatics meeting this year inspired them and they are now considering patient sessions for the more than 200 disciplines that have GRC conferences.

Regards,

Wiliam Repicci, Executive Director
LE&RN's advocacy efforts are only possible because of Supporting Members. Supporting Membership begins at just $5/month. Become a Supporting Member today.