a guest blog post by Tiffany Detlefsen, mom to LE&RN Youth Ambassador Emma Detlefsen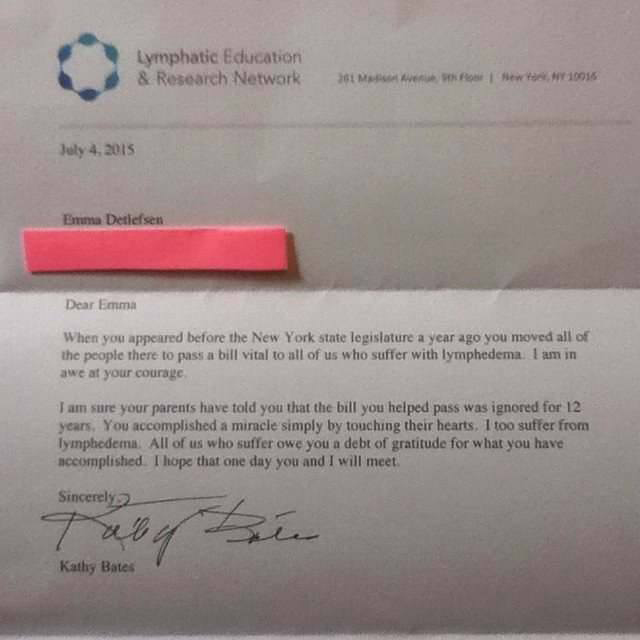 I'll always save this letter -- the first time Academy Award-winning actress and LE&RN Spokesperson Kathy Bates reached out to Emma personally. We were in shock. Since then, I think it's safe to say, they've become friends, each other's inspirations.

Then came Ms. Bates' Walk of Fame star, quite possibly the biggest affirmation of her career... and she dedicated it to my little girl! I still can't wrap my head around it. They have touched each other's lives deeper than anyone will understand and, at the time, they had never even met.
Now, we are beyond excited to tell everyone that Emma and I are heading to DC to meet the woman who provided a silver lining for this unfortunate deck of cards Emma was handed. As Kathy's guests in DC, we will have the honor of watching Kathy receive the Isadore Rosenfeld Award for Impact on Public Opinion at the 2017 Research!America Awards Dinner for her advocacy for lymphedema and LE&RN. Among other award winners that night will be 47th VP Joe Biden.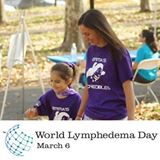 When we started advocating for LE&RN, it was for Emma. But this has become bigger than Emma. Thursday at the state Capitol in Albany, New York, I felt the momentum growing. Our newest honoree Nicole Faccio has yet another lymphedema story that would break your heart and blow your mind at the same time. Lymphedema deserves research, it deserves attention, and we are here to do whatever we need to do to make this life easier for Emma and everyone else who suffers.
Today is World Lymphedema Day here in the state of NY and, thanks to the US Senate's unanimous vote last year, throughout the country. Think about sporting some teal (the color for lymphedema) or purple (Emma's Incredibles - Team Lymphedema's team color) today. Think about becoming a Supporting Member of LE&RN. Think about signing the 2017 World Lymphedema Day petition.
If nothing else, think of Emma and all she's done, at 8 years old, and send a little positive vibe into the universe for all who suffer. It's crazy to think that in all the darkness this disease brings, her little light just keeps shining through.