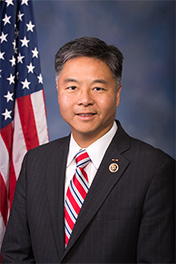 LE&RN is spearheading an effort to ensure that lymphatic research receives funding under the Peer Reviewed Medical Research Program (PRMRP) at the Department of Defense (DoD).
We are grateful to Representative Ted Lieu of California (at right) for his leadership on this issue, and have sent a message via Twitter to recognize him for these efforts. (You may retweet this message to show Congress that our community notices and appreciates such action.) Please take a moment to read Representative Lieu's letter to the Appropriations Committee and contact your own Congressional representatives if she or he serves on the Appropriations Committee.
Your voice is needed! See how you can help in this important initiative.
LE&RN thanks @RepTedLieu for his leadership on requesting "lymphatic diseases" be added as a category eligible for study within the Department of Defense. https://t.co/oOzBf81lN9

— LE&RN (@LymphaticNet) September 13, 2018