A Strong Finish to 2015; A Hopeful Start in 2016
The generosity displayed by LE&RN's supporters during our year-end appeal demonstrated a growing optimism and hope. We share that enthusiasm for the future with you. The past year proves we can, and will, make a big impact when we join our voices and efforts together. Stop by our year-end appeal page. See how many people pulled together to make it a success. If you haven't already, you can still contribute to this effort and leave a message on the page. Together, we have accomplished so much and there are so many good reasons to support lymphedema and lymphatic disease education, research, and advocacy. Here's to an even better year ahead!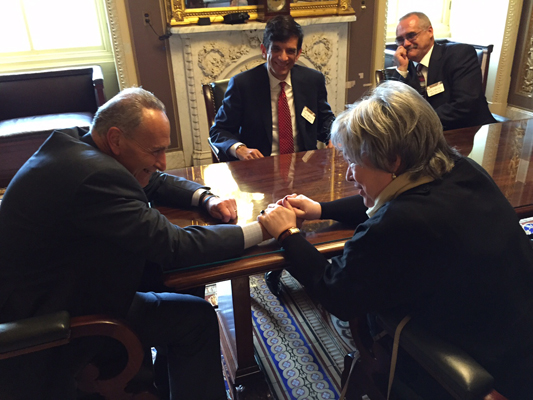 Join LE&RN In Seeking Dedicated Lymphedema and Lymphatic Disease Funding
Congress passed an historic funding bill at the end of 2015, providing the NIH with an additional $2 billion in research dollars. LE&RN applauds this turn of events and is leading the charge to ensure that up to $70 million of this budget be earmarked for lympehdema and lymphatic disease research.
United States Senator Chuck Schumer (NY) has been a loyal and concerned friend to our community. In 2014, LE&RN honored him with the Research Leadership Award for his dedication to research. (Check out his extraordinary and encouraging remarks at the 2014 New York Walk here.) Now we ask you, our members and advocates, to reach out to the Senator. Let him know that lymphedema and lymphatic disease research matters to you, and that you support dedicated funding for this research. Then, contact your own representatives in Congress. Click here for contact information and for a sample letter.
Membership Matters
LE&RN members provide the stability we need to continue the vital work of education, research, and advocacy for the lymphedema and lymphatic disease community. This month, we will begin a membership drive designed to bring more people on board as core supporters of LE&RN. Membership begins at just $5/month or $60/year, and it's easy to sign up. As a member, you'll be supporting research fellowships and grants, education seminars, and advocacy at the state and national levels. Become a member today.
LE&RN Postdoctoral Fellowship Awards Program
Applications for the LE&RN Postdoctoral Fellowship Awards Program are due Friday, January 15, 2016 3:00 p.m. U.S. Eastern Standard Time (GMT-5). These awards are made possible through a generous bequest from Dorothea M. Weitzner and are designated the HENRY M. WEITZNER, EDNA K. WEITZNER, DOROTHEA M. WEITZNER AND MORTON L. WEITZNER RESEARCH FELLOWSHIPS.
Wendy Chaite Leadership Award
The LE&RN Wendy Chaite Leadership Award is named in recognition of our Founder's impact in the field. It is intended to recognize individuals, including elected and appointed officials; organizations, including non-profit and for profit corporations; foundations; and institutions who have made a significant contribution toward promoting and supporting lymphatic research, at the international, national, state or local level, to advance the field of lymphatic research and/or to find improved treatments and cures for lymphatic diseases, lymphedema, lipedema, and related disorders. Self-nominations are welcomed. The deadline for nominations for the Wendy Chaite Leadership Award is January 22, 2016.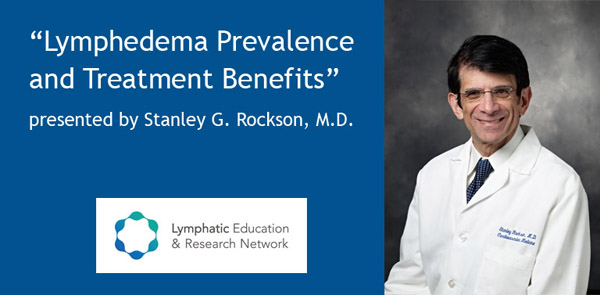 New symposium video, from Dr. Stanley Rockson, now available
"Lymphedema Prevalence and Treatment Benefits," with Stanley Rockson, M.D. is now available on video on LE&RN's website.
Support LE&RN with AmazonSmile
Choose LERN as your designated charity and shop through this link at AmazonSmile. Amazon will then contribute a portion of your purchase to LE&RN.
Virtual Expo
LE&RN's newly launched Virtual Expo allows patients, caregivers, and others to find out more about the companies that support the lymphedema community. Check it out today.
Follow LE&RN and spread the word
Show your support by following LE&RN on Facebook, Twitter, and YouTube; signing up to receive e-news from LE&RN; and by sharing information about LE&RN with friends and family.