Pictured above: Bri Dobbs, top 2016 fundraiser; LE&RN Spokesperson Kathy Bates; and Amy Rivera, Missouri Chapter Chair, at the 2016 pre-Run/Walk cocktail reception for top fundraisers.
CA #LymphWalk, June 18
Join LE&RN in CA on June 18 for the 3rd annual California Run/Walk to Fight Lymphedema & Lymphatic Diseases, proudly sponsored by the Lymphatic Education & Research Network and National Series Sponsors: BSN medical (Premier Presenting Sponsor), Tactile Medical (Presenting Sponsor), BioCompression Systems, Juzo, ImpediMed/L-Dex, Eiger, Sigvaris, Medi USA, Herantis, LympheDIVAS, Lympha Press, and Lymphedema Center, Santa Monica.

The top 10 fundraisers (who have raised a minimum of $1,000) and a guest will be invited to an exclusive cocktail reception the night before the Run/Walk. The party is hosted by Academy Award winner Kathy Bates, LE&RN's National Spokesperson.

Visit LymphWalk.org for complete details about the CA Run/Walk and other upcoming events around the country.
LE&RN welcomes Nevada Chapter
LE&RN is pleased to announce the formation of another LE&RN State Chapter. The Chapter will be headed by co-Chairs Cynthia Judge and Christine Wunderlin ('The Lymhedema Mavens"). Reach out to them at NVChapter@LymphaticNetwork.org and like their page on Facebook.
Sheila Ridner named to International Nurse Researcher Hall of Fame
Congratulations to LE&RN Board Member Sheila H. Ridner, Ph.D., R.N., FAAN, and Martha Rivers Ingram Professor of Nursing at Vanderbilt University School of Nursing (VUSN). Dr. Ridner will be honored by Sigma Theta Tau International (STTI) with induction into its International Nurse Researcher Hall of Fame. The induction ceremony will be held July 29 during the 28th International Nursing Research Congress in Dublin, Ireland.
LE&RN President & CEO William Repicci writes about lessons from the AIDS movement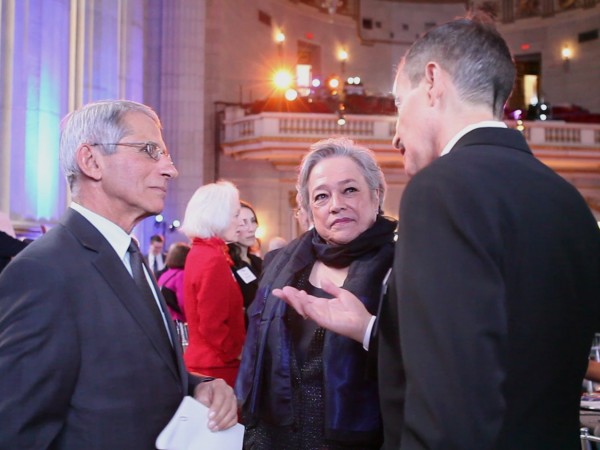 On March 15, LE&RN President & CEO William Repicci spoke with Dr. Anthony Fauci, the Director of NIAID at NIH. (Both pictured at right with LE&RN Spokesperson Kathy Bates.) Bill wrote about these lessons for our community in this blog post.
Upcoming Symposia
On Monday, May 22, at 3pm, Dr. Peter Mortimer will deliver a Livestream Symposium from London, in conjunction with the launch of his book, Let's Talk Lymphoedema: The Essential Guide to Everything You Need to Know, co-authored with Gemma Levine and published by Elliott & Thompson in May 2017.

On Wednesday, May 24, from 12-1pm, Dr. Kathleen Francis will present a Livestream Symposium on the connection between lymphedema and obesity. Details to follow.

Past Symposia can be viewed on LE&RN's website.
Support #LymphaticFunding; Sign the petition today
LE&RN is working with U.S. Senator Kirsten Gillibrand to request that "$70 million in lymphatic and lymphedema research funding be appropriated to the Office of the Director at NIH to support extramural interdisciplinary research relevant to the lymphatic system in health and disease." Sign and share the petition today and help make #lymphaticfunding a national priority.
Klose Lymphedema Therapist Conference
LE&RN is a proud Supporter of the Klose Lymphedema Therapist Conference. May 4-6 in Denver, CO. We wish all participants a productive conference.
Lymphatic Forum 2017
Registration for researchers and medical professionals is open for the first Lymphatic Forum: Exploring the Lymphatic Continuum, June 8-10, in Chicago at Northwestern University. LE&RN is a proud co-organizer of the Lymphatic Forum and is pleased to provide LE&RN Supporting Members a $200 discount on registration.

LE&RN is honored to grant Travel and Poster Awards in honor of Colette McDowell; award winners will be announced prior to the Forum. These awards are for young investigators who are LE&RN Supporting Members (PhD students, medical students and postdocs). In addition, four Best Poster Presentation awards (one $1,000 US currency and three $500 US currency) will be given to the top posters presented. In addition, the publishers of Lymphatic Research & Biology, Mary Ann Liebert, Inc. will offer a complementary one-year subscription to the top poster award winner.
Colette McDowell was born with a rare lung disease called pulmonary lymphangiectasia, where lymph fluid accumulates in her lungs, abdomen and skin. Her family and friends are funding the LE&RN Awards as they look to brilliant young researchers for tomorrow's treatments and a cure.
Virtual Expo
LE&RN's Virtual Expo, a way for patients and the medical community to connect with the companies and professionals who specialize in lymphatic and venous diseases, such as lymphedema and lipedema, was recently redesigned. Visit today and let the newly redesigned Expo keep you up to date on products and services, and give you tips from experts to improve quality of life.
Become a Supporting Member
LE&RN Supporting Members fund educational programs such as the LE&RN Symposium Series; research fellowships, grants, and scholarships; and advocacy efforts such as the drive to secure $70 million in NIH funding. None of this can happen without your commitment. If you haven't done so already, become a Supporting Member today. Supporting Membership begins at just $5/month.
---