Guest blog by Marie Apodaca, LE&RN Colorado Chapter Chair. Pictured above: Marie and Dennis at 2017 CA #LymphWalk.
Hi All,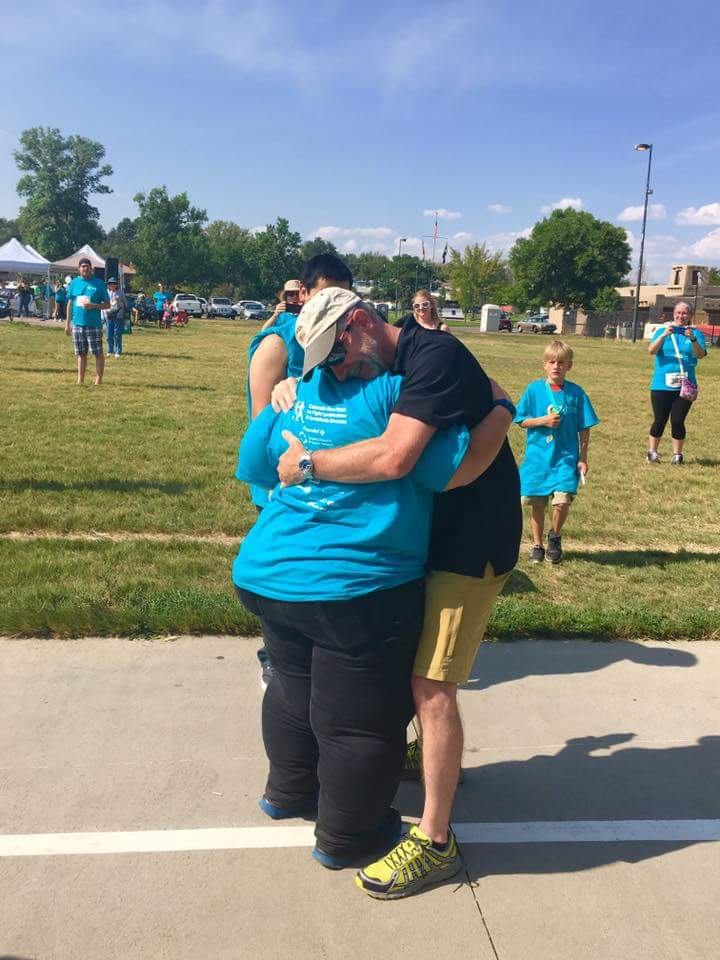 I just found out that Dennis Schlaht will be awarded the LE&RN Advocate Award at the 4th annual CA Run/Walk to Fight Lymphedema & Lymphatic Diseases in Santa Monica this weekend. I'm so happy to read this!! I wanted to add a few words for Dennis since I won't be able to make it this year and see Dennis receive the award.
I could not agree with this award choice more! I have great love, appreciation, and admiration for Dennis and his wife, Chris. Since the very first California Run/Walk in 2015, I have known Dennis and Chris. They were part of THE most emotional part of that first Run/Walk for me. This was when I had a chance to cross the finish line. What I realized then was that I was THE very last person to cross the finish line. I figured there would be no medals left and no one left cheering since I was the last one by a long bit to cross. What I DIDN'T know was that I had my own advocates saving a medal for me and cheering me on the entire time and when I crossed that line on that very warm Santa Monica beach! That was Dennis and Chris! My personal advocates and cheering team!
I found out that they saved me a medal and made sure I had it to take home with all of the other wonderful memories from that first Walk. I cried later when I realized that's what happened! At the time, I had no idea.
Every trip I make back to California for the Run/Walks, I look forward to those big, genuine, warm hugs from the Schlahts! They are always there with genuine joy and support for not only me but EVERY patient there! What an amazing set of encouraging advocates!
Fast-forward to September 10, 2018, the date of the inaugural CO Chapter Run/Walk, guess who shows up?! Dennis and Chris of course along with their daughter who was attending college in Colorado! They are Colorado natives, lovers of the Denver Broncos and the Rocky Mountains, as am I! Can you say serendipitous?!
The photos above need no caption because they are filled with true emotions. These pictures are from when I crossed the finish line at our Colorado Run/Walk last year. Yes, I was the last to cross again and my dear friend and personal advocate, Dennis Schlaht, was there to hug me and give me the medal when I crossed. Tears and joy poured from me. That embrace brought everything full circle! The tireless (and many times thankless) efforts of our friends, sponsors, advocates, and encouragers were all wrapped into THAT embrace!
I only wish I had pictures from the first Walk when Dennis saved me that first medal! I'm proud to call Dennis my friend and he is the perfect example of a true Advocate! Thank you for awarding Dennis with this award. It is well-deserved!
Please give Dennis and Chris Schlaht a hug for me since I won't get to do it in person this year.
With love,
Marie Apodaca
Colorado Chapter Co-chair for LE&RN