In recognition of the 10-year anniversary of the New York #LymphWalk, we are posting a series of blogs focusing on just a few of the many people who have contributed to its success over the years. Here we talked to Cynthia Shechter, who has been a long-time participant and whose northern New Jersey practice, ShechterCare, has been a sponsor of the NY LymphWalk from the beginning.
When did you first get involved with the NY LymphWalk?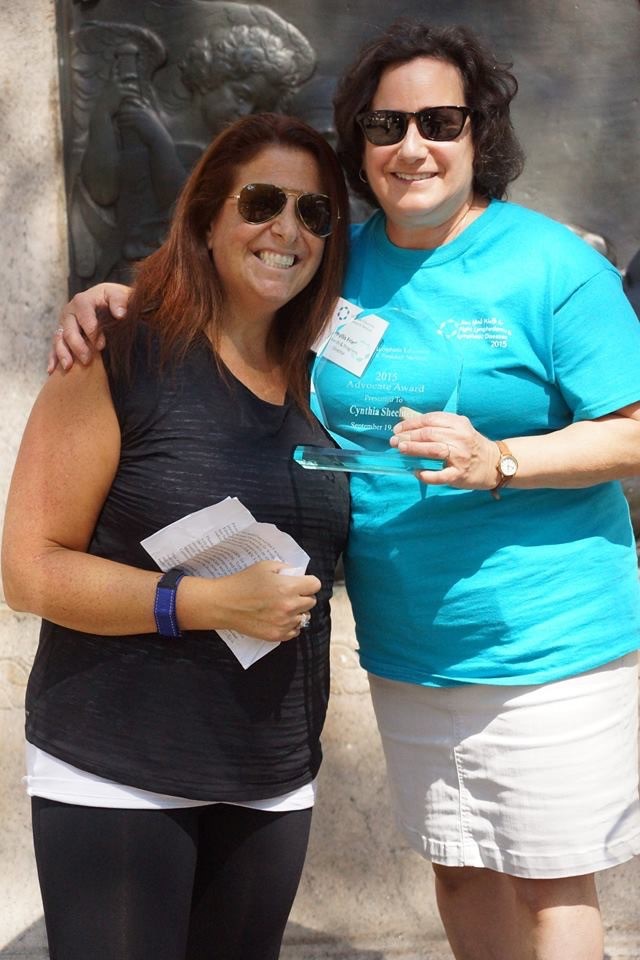 I became involved with LymphWalk since it was hosted on Long Island in 2013, after opening my specialty lymphedema and breast cancer practice in midtown Manhattan. (My practice has since moved to New Jersey.) In 2015, I was awarded the LE&RN Advocate Award, which still stands proudly on my reception desk at the office.
What keeps you coming back each year as a sponsor?
LE&RN is a fabulous organization devoted to finding a cure for lymphedema and lymphatic diseases. As a clinician who treats individuals with all kinds of lymphedema, I feel it is both my personal and professional responsibility to sponsor LymphWalk, to expose patients to others with lymphedema and lymphatic disease, to increase awareness of lymphedema as a condition, and to help patients connect to become self-advocates. I believe that in my lifetime we can find a cure for lymphedema and I want to be part of that solution!
What is your favorite NY LymphWalk memory?
I still remember walking to the first NYC LymphWalk in 2014 and seeing individuals of all shapes and sizes, rocking their compression garments or wrappings, walking over the Brooklyn Bridge. What an incredible sense of community it was to see people who were like family as they walked over the bridge, a tremendous accomplishment for many.
This year's New York #LymphWalk will be a 5K Fun Run in Riverside Park at 103rd Street in Manhattan on October 19, 2019. To participate in this great event, just visit www.LymphWalk.org and click on the New York Walk.
---
About ShechterCare
ShechterCare is the only privately-owned physical rehabilitation practice in the NYC/NJ area that is solely dedicated to treating women and men who have had breast cancer surgery resulting in lymphedema, swelling, scar tissue, and range of motion issues. In addition, we treat secondary lower extremity lymphedema. These conditions can result from lymph node removal, damage due to cancer, radiation therapy, and trauma. Our patients have unique needs and require special emotional as well as physical support. Therefore, we provide a private, comforting environment in which patients may interact with individuals that have had similar life experiences. Patients find this exclusivity reassuring and aids in the healing process.
We are a very MANUAL practice, meaning that we manipulate tissue more than many other clinicians and a treatment session may consist of:
Scar mobilization
Myofascial release
Endurance training
Postural training
Flexibility exercises
Functional re-ed
Therapeutic /activity-specific exercise
Endurance training
Pain management
Manual Lymphatic Drainage
About Cynthia Shechter:
Cynthia Shechter, CLT-UE, OTR/L, CIMT, MA is the owner and Director of Rehabilitation at ShechterCare. She earned her master's degree, in Occupational Therapy, at New York University. She has devoted her clinical practice to breast cancer and lymphedema rehabilitation.
Cynthia has lectured on the topic of breast cancer rehabilitation and lymphedema to several cancer groups in the community as well as to different physicians' groups. Her main focus is educating patients on lymphedema management and enabling them to return to their "normal" lifestyle with as few restrictions as possible.
Cynthia is dedicated to increasing the awareness of the medical community on the benefits of rehabilitation following breast cancer surgery.
Cynthia serves on the "Ask The Expert" panel for the Lymphatic Education and Research Network, was the chairperson of the LERN scholarship committee to help train lymphedema therapists in under-served areas, is a current partner with the 5 Under 40 organization and has been published and quoted is many articles and journals. Cynthia is currently working to build a relationship with METAvivor, an organization devoted to finding a cure for stage 4 breast cancer.
You can follow ShecterCare on Facebook.