a guest blog post by Arun Rekha, LE&RN India Chapter Chair
In collaboration with the National Health Mission (NHM) Odisha, Non-Communicable Diseases (NCD) Cell Odisha, and the Palliative Care and Plastic Surgery Department All India Institute of Medical Sciences (AIIMS) Bhubaneswar, LE&RN India observed World Lymphedema Day.
Prof. Sukdev Nayak, Department of Palliative Care and Plastic Surgery Department AIIMS Bhubaneswar, arranged for talks and workshops as well as garnered support from the Odisha state government, specifically the state branches of India's NHM, and the cell overseeing the Non-Communicable Diseases Mission, Dr. S.B. Gogia, president of Society for Administration of Telemedicine and Healthcare Informatics (SATHI), coordinated the efforts on behalf of LE&RN. Arun Rekha, LE&RN India Chapter Chair, participated online.
The meeting and workshop was coordinated with articles ("The Elimination of Filariasis" and "Lymphoedema and its Management") that talked about how better care for lymphedema will help improve India's Program for Elimination of Lymphatic Filariasis (PELF).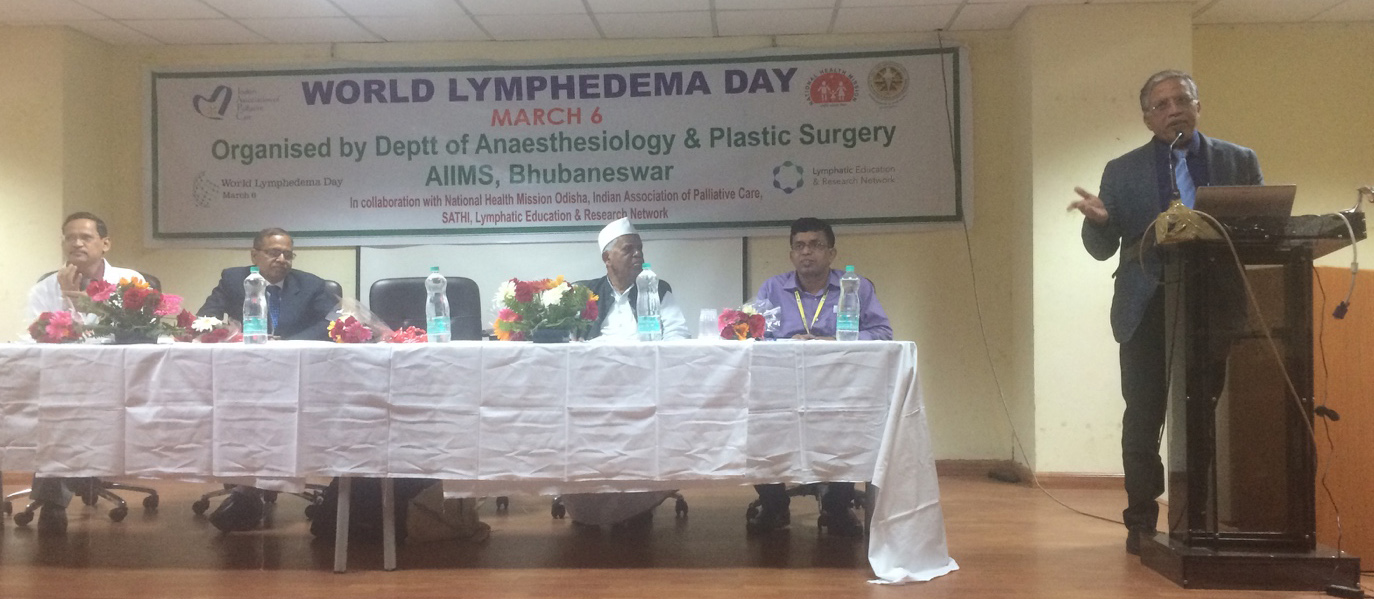 Dr. S.B. Gogia (pictured at the podium at right) introduced the concept of and need for World Lymphedema Day during the inauguration of the palliative care conference.
The meeting was merged with the ongoing two-day workshop for palliative care nurses on March 5 and 6. Participants in the meeting were government doctors from Primary Health Centres across Odisha. We had the additional presence of key functionaries of Programme for Human Development - India coming all the way from Kanyakumari District - another endemic zone in Tamil Nadu, India.
The session specific to lymphedema started in the afternoon of March 5, 2017, chaired by Dr. Sanghamitra Pati, Director, Regional Medical Research Centre, Bhubaneshwar with the following topics:-
Filariasis, a Malady for Odisha: Dr Gogia, SATHI, New Delhi
Pathophysiology of Lymphedema: Dr P Bhaskar Rao
Lymphedema resembles Chronic Venous Insufficiency
Conservative Treatment for Lymphedema: Dr SN Mishra, Chidambaram
Compression bandaging: Arun Rekha (via video calling)
Online presentation by LE&RN India Chapter Chair Arun Rekha
A recorded video message from LE&RN Executive Director William Repicci was played to the audience.
The event included a live workshop. A patient with bilateral filarial edema was examined and the use of an intermittent pneumatic compression pump demonstrated. Another live demonstration was of a manual pneumatic pump by Dr. S.N. Misra on a patient with post-mastectomy lymphedema. MLLB (multi-layered low-stretch bandaging) was done and a compression stocking was also demonstrated on this patient. The next day, a formal workshop on lymphedema care was done by plastic surgeons, Dr Gogia, SATHI, New Delhi, Dr Sanjay Kumar Giri, AIIMS, Bhubaneswar and Prof. SN Misra, from Chidambaram, Tamilnadu.