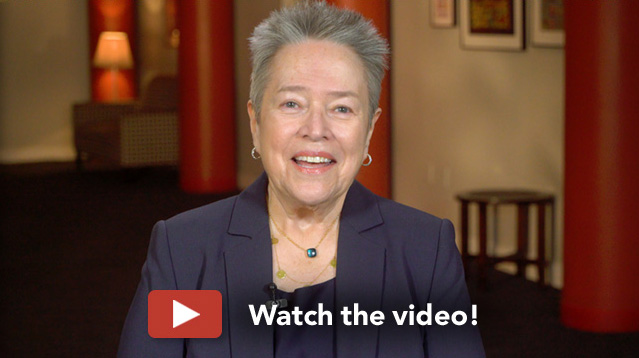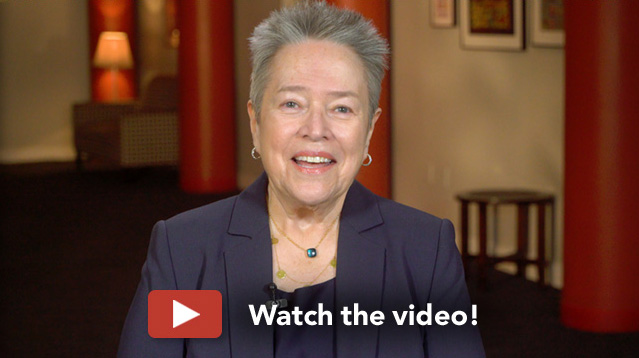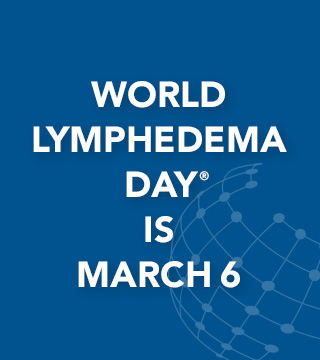 Join us in supporting

World Lymphedema Day!
What to Know
World Lymphedema Day is an annual celebratory event to educate the world about lymphatic diseases. We look forward to you joining advocates from around the world in planning a live or virtual event. Your event can be simple or elaborate. The important thing is you using your voice to express the change you want to see in the world—a world where lymphatic diseases are a global priority. Click here for ideas of how you can get involved. Once you know your planned activity for World Lymphedema Day, please post it on the map below. The map shows the world how we are all connected in this common goal on March 6, 2022!
LE&RN WLD Events
On World Lymphedema Day, LE&RN will release all presentations from our 2021 Virtual Lymphatic Summit for free. Sign-up here to get acess.
LE&RN Symposium March 9 12pm ET - COVID-19 and Breast Cancer-Related Lymphedema: Patient Experiences and the LymphVAX Study Symposium with Cheryl Brunelle. Register on Zoom.
About World Lymphedema Day
WLD is an annual advocate-driven celebration, which was established in 2016 by the United States Senate in response to a bill written by the Lymphatic Education & Research Network (LE&RN). The year 2022 marks the 7th year of World Lymphedema Day. Although the day is called World Lymphedema Day, it's about educating the world on all lymphatic diseases, including primary and secondary lymphedema (LE), lipedema (LI), lymphatic filariasis (LF), lymphatic malformations (LM), and the full lymphatic continuum (LC) of diseases impacted by the lymphatic system.
Learn More About Lymphatic Diseases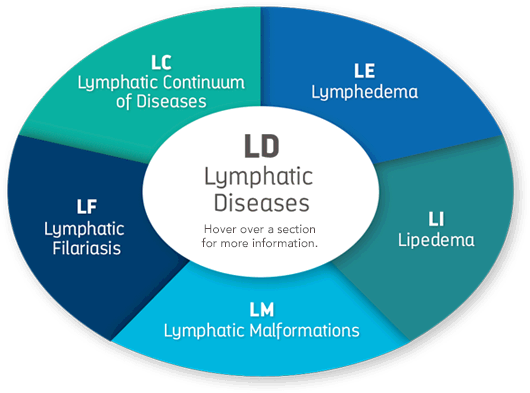 Lymphatic Continuum (LC) refers to the continuum of diseases impacted by the lymphatic system including heart disease, AIDS, diabetes, rheumatoid arthritis, and cancer.
Lymphedema (LE) is a chronic, debilitating lymphatic disease that results in disfiguring swelling in one or more parts of the body due to a damaged lymphatic system. WHO estimates over 250 million people suffer from LE worldwide. The swelling is caused by a combination of lymph stagnation and the structural alterations in the tissues. LE can be genetic or inherited (Primary) or it can occur as a consequence of a surgical procedure, infections, radiation therapy, or other forms of physical trauma (Secondary).
Lymphatic Filariasis (LF) threatens 1.4 billion people in 73 countries. Commonly known as elephantiasis, 120 million are currently infected by this mosquito carrying parasitic disease. Over 40 million of those affected by LF are disfigured and incapacitated by the disease.
Lipedema (LI) is an adipose tissue disorder or a lipid metabolism disorder that affects approximately 11% of women, often in the hips and legs, but also in the upper arms. Lipedema fat is relatively unresponsive to diet and exercise. Lipedema is both an excess buildup of fat cells in a particular area, and the expansion of those fat cells.
Lymphatic Malformations (LM) are rare, non-malignant masses consisting of fluid-filled channels or spaces caused by the abnormal development of the lymphatic system. LM is usually apparent at birth or by two years of age and most commonly affects the head and neck.