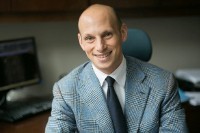 Areas of expertise:
Vascularized Lymph Node Transfer
LVA (lymphaticovenous anastomosis)
Liposuction and Debulking Operations for Lymphedema
Surgical Treatment of Lymphedema
Lymphatic Imaging and Work-up (including lymphoscintigraphy, MRI/MRL/MRA, ICG Lymphangiography/SPY)
Assessing Outcomes in Lymphedema Treatment
Dr. Joseph Dayan is a board certified plastic surgeon specializing in microsurgical cancer reconstruction and lymphatic surgery. His work on vascularized lymph node transfer has been presented internationally and he is a founder of the American Society for Lymphatic Surgery. Dr. Dayan also performed the first lymph node transfer in the tri-state area and in Israel with his colleague, Dr. Mark Smith. His work in this arena includes prospective clinical study of lymph node transfer and lymphovenous bypass, collaborative efforts with basic science researchers and certified lymphedema therapists, and patient advocacy.
Submit a New Question
Vascular Lymph Node Transfer Is it effective for truncal lymphedema
Question (Karin, ):

Dr. Dayan: I am a breast cancer survivor who has developed lymphedema in my chest and back after DIEP flap reconstruction. I have tried manual lymphatic drainage treatments and have used the arm sleeves required by Medicare which only exasperated the problem in my trunk. As Medicare refuses to cover any further physical therapy for my condition and denies coverage of the truncal pump I suffer daily from the increasing pressure in my chest and back to include not only chest pain but pain in my spine and migraines. I have read about VLTN and wonder if there is any evidence that it can help in the situation of truncal lymphedema.

Answer:

As per Dr. Dayan-

Thank you for your question, this is a very challenging and under-appreciated problem. I have seen good results with decongestive therapy over time, and this is still the primary treatment. The barriers to receive this necessary treatment because of limits in insurance coverage are a serious problem and I wish I could give you an easy solution. Vascularized lymph node transfer (VLNT) is generally not an alternative to lymphedema therapy. It is standard practice for a lymphedema surgeon to work with a lymphedema therapist, often before and after surgery as decongestive therapy provides a good environment for lymphatic vessels to grow. Most patients in my experience still require some form of compression. While there are some patients who have ultimately stopped using a compression garment following VLNT, this surgery is not typically a cure.

To date I have not seen any published outcomes on VLNT for breast lymphedema. I have personally used VLNT in one patient with very painful lymphedema of the breast with promising early results. Specifically we performed a omentum lymphatic flap (taken from inside the abdomen) which was placed under the skin from the edge of her outer breast across the underarm. While she has had significant improvement, it is too early to claim victory as I would normally wait at least 2 years to see if the results are durable. We do not yet have the data to give you a better answer but I do believe this is an area that will gain a lot more visibility and progress.

European MRI method for assessing lymphatic system
Question (Jane, ):

Dr. Dayan, I became aware of the surgical treatment for lymphedema recently. In my research I found a blog from a woman in France,lymphosaurusrex, who said that only the French Doctor Becker has the MRI technology to best assess one's lymphatic system. On the blog she shows her lymphoscintigraphy film and the colored MRI. The MRI detail was amazing. Is this true? Are there any US surgeons who have this more precise technology available? Does MSKCC? Thank you for your response. JPG

Answer:

As per Dr. Dayan-
Thank you for your question, this is a very interesting and exciting topic! There have been some significant recent advances in imaging technology which allow the surgeon to see the lymphatic vessels, assess the damage, and help determine what type of surgery is most appropriate. The technique you are referring to is MR lymphangiography or MRL. While it is not commonly performed it is offered at some centers in the U.S. where lymphatic surgery is commonly practiced. I would suggest you reach out to a lymphatic surgeon in your region and ask them directly if you are interested. We do have all patients undergo MRL, as well as MRA (magnetic resonance angiography), and ICG as part of their standard pre-surgical work-up. We have found this imaging to be helpful as all lymphedema is not the same; two patients with similar appearing lymphedema in terms of their limb size may have differences in their lymphatic function, as well as the amount of fluid versus fat in their limb. These differences may affect the outcome of surgery and may impact the type of surgery that is offered.

MRL provides a high resolution snapshot of the lymphatic vessels. ICG lymphangiography also allows you to see the lymphatics but in real time with video so you can see the pumping function of the vessels as well. This does require typically two or more injections of a small amount of dye into the skin, and a special near-infrared camera is used to project a detailed image on a computer monitor. MRA allows you to see the anatomy of the blood vessels and can also tell you how much fat growth has occurred versus how much fluid you have in your limb. Over time, the fluid may be replaced by fat overgrowth and can affect the outcome following surgery.
While these technologies have provided greater insight into a patient's particular disease process, there is still no consensus regarding the ideal work-up prior to surgery. Lymphatic imaging is a field which will continue to advance and I am optimistic that it will further improve our ability to select patients for surgery and guide treatment for a better outcome. It is a very large topic and difficult to cover in a brief response, but I hope this is helpful to you!

lymph node core needle biopsy
Question (nicole, ):

I have a concern. I am a breast feeding mother and I found lump in my breast went to have a ultrasound done. The radiologist noted an aggressive mass which she performed a core needle biopsy on. She also noted that I had active axillary lymph node and she did a core needle biopsy on that as well. The pathology result was a lactation adenoma and reactive changes to lymph node no malignancy. My question is is there any risk of developing lymphedema post a core needle biopsy of a lymph node? Do you think I should follow lymphedema precautions for the rest of my life?

Answer:

As per Dr. Dayan-

Thank you for your question. I think it would be very rare to develop lymphedema from a core biopsy if you have an otherwise normal lymphatic system, although we rarely say "never" in medicine. I personally have not yet encountered a patient with lymphedema from a core biopsy and I could not find any reports of this in the literature. I believe lifelong lymphedema precautions would probably be excessive in your case.