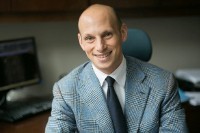 Areas of expertise:
Vascularized Lymph Node Transfer
LVA (lymphaticovenous anastomosis)
Liposuction and Debulking Operations for Lymphedema
Surgical Treatment of Lymphedema
Lymphatic Imaging and Work-up (including lymphoscintigraphy, MRI/MRL/MRA, ICG Lymphangiography/SPY)
Assessing Outcomes in Lymphedema Treatment
Dr. Joseph Dayan is a board certified plastic surgeon specializing in microsurgical cancer reconstruction and lymphatic surgery. His work on vascularized lymph node transfer has been presented internationally and he is a founder of the American Society for Lymphatic Surgery. Dr. Dayan also performed the first lymph node transfer in the tri-state area and in Israel with his colleague, Dr. Mark Smith. His work in this arena includes prospective clinical study of lymph node transfer and lymphovenous bypass, collaborative efforts with basic science researchers and certified lymphedema therapists, and patient advocacy.
Submit a New Question
lymph node core needle biopsy
Question (nicole, ):

I have a concern. I am a breast feeding mother and I found lump in my breast went to have a ultrasound done. The radiologist noted an aggressive mass which she performed a core needle biopsy on. She also noted that I had active axillary lymph node and she did a core needle biopsy on that as well. The pathology result was a lactation adenoma and reactive changes to lymph node no malignancy. My question is is there any risk of developing lymphedema post a core needle biopsy of a lymph node? Do you think I should follow lymphedema precautions for the rest of my life?

Answer:

As per Dr. Dayan-

Thank you for your question. I think it would be very rare to develop lymphedema from a core biopsy if you have an otherwise normal lymphatic system, although we rarely say "never" in medicine. I personally have not yet encountered a patient with lymphedema from a core biopsy and I could not find any reports of this in the literature. I believe lifelong lymphedema precautions would probably be excessive in your case.

LVA surgery
Question (Kathy, ):

Dr. Dayan, We are considering having LVA surgery performed on our almost 16 year old son. We recently found out he has primary lymphedema in his feet and legs. His left foot has been swollen since first grade without any pain and still fits in the same size shoe as the other foot. This March during track he had pain and swelling in his right foot. We saw a PT who had a certified lymphedema specialist in his office and she diagnosed him with lymphedema. We have done some therapy 9 ( and the pain is gone ) with her and she found Dr. Chen in Iowa city and referred us to him to talk about possible surgery. They performed the ICG test and didn't really find any linear pattern of lymph flow in either leg. We are wondering about the effectiveness of the surgery and since he is so young if the surgery will continue to be effective over the course of his life. Wondered what your experience doing the LVA surgery on young patients is? Thanks

Answer:

Thank you for your question, it is clear you are doing everything possible for your son. There are a number of considerations regarding primary lymphedema and LVA, all best answered by the lymphedema surgeon examining your son. Not all forms of primary lymphedema are the same, they may have different features, progress differently, and respond differently to LVA. Some patients may have a normal number of lymph nodes but abnormal lymphatic vessels, some patients have few or no identifiable lymphatic vessels, and others may have a problem with the ability of the lymphatic vessels to pump lymph. For LVA to function there needs to be a lymphatic vessel or vessels present to bypass. In patients with heavily scarred, or non-functional lymphatics, my personal experience has been disappointing, and we will tend to offer lymph node transfer in that setting. I do not have a lot of personal experience attempting LVA in patients without any lymphatics seen on ICG who have primary lymphedema, so I cannot comment on the results—I would ask your surgeon their experience for patients similar to your son. As a community, lymphatic surgeons are exploring a number of promising treatments for this disease and I believe our collective experience will shed more light in this field in the next few years, I only wish I had a clearer answer for you now.