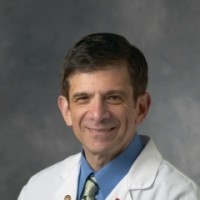 Areas of expertise:
Lymphedema
Lymphedema prevention
Genetics
Lymphatic malformations, venous malformations, complex vascular anomalies
Protein-losing enteropathy
Chylous effusions
Impact of systemic disease on lymphatic function
Dr. Rockson is the Allan and Tina Neill Professor of Lymphatic Research and Medicine at Stanford University School of Medicine. After earning his medical degree from Duke University School of Medicine in Durham, North Carolina, Dr. Rockson completed his internship and residency training in internal medicine at the Peter Bent Brigham Hospital of Harvard Medical School, in Boston, Massachusetts, and fellowship training in the cardiac unit of Massachusetts General Hospital, Harvard Medical School. He is a fellow of the American College of Cardiology, American College of Angiology, and American College of Physicians, as well as a member of the International Society of Lymphology, American Society of Internal Medicine, the Society of Vascular Medicine and Biology, and the Paul Dudley White Society, among others. Dr. Rockson is the Director of the Stanford Center for Lymphatic and Venous Disorders and serves as Editor-in-Chief of Lymphatic Research and Biology.
Submit a New Question
Predisposed to lymphedema?
Question (Cynthia, ):

I am 3 weeks post op bilateral mastectomy with removal of lymph nodes under left arm. Everything looks fine so far, and I am ready to begin walking/exercising, but am concerned about causing lymphedema because of a prior condition that i don't fully understand. For as long as i can remember when I walk, my hands and fingers noticeably swell up. This is particularly bad in warm weather - a moderate walk on a hot summer day will cause my hands and fingers to become extremely swollen. Nobody I know swells up to this degree. All summer long my feet are perpetually swollen. Will whatever causes this, predispose me to getting lymphedema? (Is the swelling even related to the lymph system?) I know exercise is important; do I need to take any precautions other than those normally advised for breast cancer patients with lymph node removal? (FYI - I am about 50 pounds overweight and have not been a regular exerciser, although I intend to change that. Maybe the swelling is worsened by those factors? )Thanks.

Answer:

I am not able to explain to you why you have this pre-existing tendency to swell, but I do feel that it may contribute to any tendency that might be present to develop lymphedema following your surgery. My suggestion is to consider getting a prescription from you physician for a Class I sleeve and glove, to be worn on your left arm during the type of exercise that previously has caused swelling. You should also wear the garment during air travel, high altitude travel, and other forms of heavy exertion, to help to protect the arm. You don't describe lymph node sampling on the R side, so compression for the R am should not be necessary.

Effect of Synovial Fluid/Steroid Injections on Lymphedema
Question (nancy, ):

My questions are regarding the risks of worsening lower extremity lymphedema by having synovial fluid injections in the knee and a steroid injection in the hip, both on the affected side. I developed lymphedema in the right leg one year ago after an international flight. In 2015 I had radiation to the right groin area after Merkel Cell Carcinoma was diagnosed in an inguinal lymph node which was surgically removed. The lymphedema is stage 1, and managed well by wearing a compression stocking daily. Now, debilitating arthritis has developed in my right hip and right knee. Also, the MCC has returned in an iliac lymph node. I am currently in an MCC trial for pembrolizumab (Keytruda) . My doctor has approved the injections for my knee, but he is not a lymphedema expert. 1. What are the risks of worsening lymphedema with synovial fluid shots to the knee? 2. What are the risks of worsening lymphedema with a steroid shot to the hip? 3. Is there any statistical data addressing these questions? 3. What advice would you offer in considering these two treatments? Many thanks for your thoughts and recommendations.

Answer:

As per Dr. Rockson-
This is a difficult decision for you. Both the injections and the untreated arthritis pose a risk for the lymphedema to worsen. Of the two, the steroid injections are probably less dangerous for the lymphedema than the arthritis. This presumes that the the physician will use strict sterile technique and that compression will be worn consistently after the injections. As with all medical decisions, this will have to be based on a risk/benefit analysis. Unfortunately, there are no statistics available to assist in the decision.

Test Question for Dr. Rockson
Question (Jim, ):

no need to answer. Working on email visibility issue. Jim

Answer:
Lower leg lymphedema and diuretics
Question (Marilyn , ):

I've had lower leg lymphedema for 20+ years. Early symptoms occurred after being on me feet all day in the heat, like at an amusement park. The skin was red, bumpy, burned, itched, and the swelling and pain curtailed any next day enjoyment. Exercise became less and less because my legs always swelled and itched. I gained weight and the legs became even worse with open wounds and leaking fluid that I couldn't keep the little gnats away no matter how much I bandaged them. One year ago I had gastric bypass and lost 124 lbs. my legs are very skinny now and the sores are gone. My legs are terribly discolored (dark purple/red) and the skin is very sensitive. Following my surgery I developed a huge DVT behind my knee and in my upper arm. I am still on xeralto. I manage the fluid in my legs using bumex and an electronic compression machine. The bumex lowers my blood pressure and my pulse runs around 42-44, so exercise is very limited again. My legs hurt every minute of every day. All I can take is Tylenol and it does work. What should be my next course of action? Cardiology? PT? Can dermatology help me?

Answer:

I believe, from your description, that a thorough evaluation of your venous system might be helpful - either cardiology, vascular medicine, or vascular surgery. This does not sound like a dermatologic problem.

lung biopsy with lymphadema
Question (Gabriella, ): Answer:
Chills with MLD
Question (Jan, ):

I have a patient with lymphedema in both lower extremities, polycythemia vera, Meniere's Disease, hypertension, and elevated cholesterol. She takes hydroxyurea for the PV. I recently got her a Flexitouch for home use and she said that she gets chills after each treatment. I asked her if she gets chills when I do MLD with her during our physical therapy sessions. She said that she does but she attributed this to the cold weather. I searched PubMed and found 5 articles talking about hydroxyurea setting off infection-like symptoms that subside when the drug use is discontinued. Have you heard anything about chills and MLD or Flexitouch with no fever, nausea or vomiting? What do you recommend we do? Thanking you in advance. Jan Bruckner, PT, PhD, CLT-LANA

Answer:

This is a new problem to me. One can envision that massage therapy and/or Flexitouch could send showers of bacteria if there was an active cellulitis, but that doesn't seem to be the case here, by your description. As a first step, the patient can try to record body temperature before, during and after Flexitouch use. If there is no fever, then I don't see any implicit reason that the treatment couldn't be continued.

Thanks for this question.