LE&RN National Action Week • August 17–21, 2020
Neglected Lymphatic Diseases:
A Ground-breaking LOBBYING Effort Needs You!
"You have a lot of well-meaning people in [Congress] but what moves this institution is the external pressure on it. You are the external pressure and you put a human face on it."
—Rep. Rosa DeLauro's (CT) response to LE&RN Spokesperson Kathy Bates' live testimony on Capitol Hill
The reasons you're doing this:
Over 27 million Americans have lymphatic diseases
There are no cures
There are no approved drugs for treatment
Treatments that do exist are often not covered by medical insurance
August 17–21: LE&RN National Action Week
We ask all United States residents—those living with a lymphatic disease and those who care about them—to call or email their Congressional representatives.
What's at stake:
Establish a National Lymphatic Commission: Our relentless advocacy has led to the House of Representatives Health Appropriations Committee recommending that a National Lymphatic Commission be established. This is a monumental accomplishment and our best opportunity to see a dramatic expansion of lymphatic research at the National Institutes of Health (NIH).
Include "Lymphatic Research" in the FY 2021 Department of Defense (DOD) Peer-Reviewed Medical Research Program (PRMRP) Budget: The DOD spends over $300 million per year on medical research. We are fighting for lymphatic diseases to be included as a category eligible for study in this program. We are making the case that lymphatic diseases disproportionately affect active duty service members due to physical trauma, bacterial infections, burn pit exposure, and complications from cancer treatment.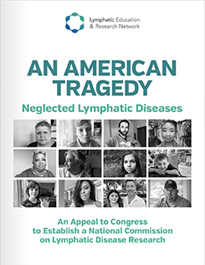 These sponsors have made LE&RN National Action Week possible: