"You have a lot of well-meaning people in [Congress] but what moves this institution is the external pressure on it. You are the external pressure and you put a human face on it."
—Rep. Rosa DeLauro's (CT) response to LE&RN Spokesperson Kathy Bates' live testimony on Capitol Hill
The reasons you're doing this:
Over 27 million Americans have lymphatic diseases
There are no cures
There are no approved drugs for treatment
Treatments that do exist are often not covered by medical insurance
LE&RN National Action Week
We need you to advocate on behalf of the 10 million Americans living with lymphatic disease. Reach out to your members of Congress during LE&RN's National Action Week, May 9-13.
What's at stake:
We can thank Congress for directing NIH to establish a National Commission on Lymphatic Diseases, and we encourage their continued support for increasing funding for this research.
We are asking that lymphedema be included as a category eligible for study in the Department of Defense (DOD) Peer-Reviewed Medical Research Program (PRMRP) in FY 2023. Lymphedema disproportionately affects active-duty service members and first responders, as this disease often arises from trauma, bacterial infections, burn pit exposure, and cancer-treatment complications.
Please ensure access to treatment for patients with lymphedema by supporting H.R.3630/S.1315 Lymphedema Treatment Act (LTA). Treatment options to manage lymphedema are extremely limited. This legislation would expand access to compression garments for Medicare beneficiaries living with lymphedema. Information on how to support this effort is available on the LTA website, please visit here.
Once you register, you will receive everything you need to participate in Action Week 2022.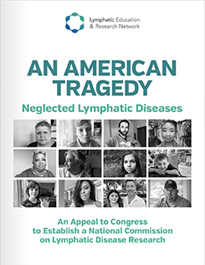 Action Week is sponsored by: