Ask Dr. David W. Chang, F.A.C.S.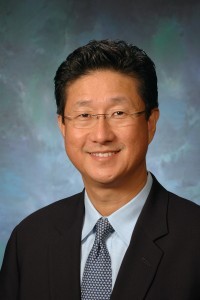 Areas of Expertise:
Surgical Management of Lymphedema
David W. Chang, M.D., is professor in the Department of Surgery at The University of Chicago Medicine. He is currently Vice President of the World Society for Reconstructive Microsurgery, and Vice President of the American Society for Reconstructive Microsurgery. Dr. Chang specializes in complex microsurgical reconstructive surgery in cancer patients, and has developed a national and international reputation as an expert and an innovator in the field of breast reconstruction and microsurgical treatment of lymphedema. He has published more than 120 peer-reviewed research articles in high-impact journals as well as dozens of book chapters. He is also a prolific speaker, and has lectured at more than 100 national and international symposiums and meetings, while serving as visiting professor at institutions all over the world. Dr. Chang has been named to Best Doctors in AmericaÒ every year since 2001. He is on the editorial board of numerous leading medical journals including the Plastic and Reconstructive Surgery. He is a recipient of the Godina Traveling Fellowship from ASRM in 2005. Dr. Chang is a board examiner for American Society of Plastic Surgery since 2008.​
Submit a New Question
Patient
Question (Michael, ):

I have had primary in right leg for near 50 years. About 3+ years ago after a nurse used unapproved later found out laser device several timesI started swelling right side and now into chest area also. Biopsy done right grown January 1973 and told it was chronic lymph disease. Over the years have had all treatment available including lymph air pressure machine, lymph drainage etc. Question: Can I be a candidate for lymph node transplant and what do I need to do to determine since there is limited information and no one doing that in AZ. Are their any trials (transplant) that I could participate in? I am 65 years old and more than basic knowledge of Milroy disease)Lymphedema praecox (Meige disease) Michael

Answer:

Thank you for your question. you have a very long history of lymphedema.
It would be useful to get lymphoscintigraphy to assess your lymphatic function. Most hospitals with nuclear medicine department can do it.
Helpful to know your height and weight. any history of venous or vascular problems? Any other health issues, medications?
You could potentially be a candidate for lymph node transfer or lymphovenous bypass or both.