Ask Dr. Jessica Kandel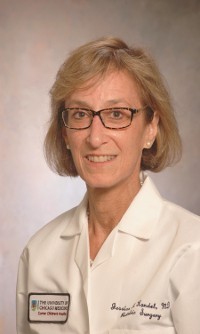 Areas of expertise:
Neonatal and pediatric surgery
Congenital and pediatric solid tumors
Vascular tumors of infancy and childhood
Lymphatic malformations
Congenital lymphedema
Hemangiomas and vascular malformations
Jessica Kandel is the Surgeon-in-Chief, at The University of Chicago Medicine Comer Children's Hospital, Professor of Surgery and Chief, Section of Pediatric Surgery, and the Vice-Chair for Pediatric Surgical Services (appointed August 1, 2013).
Kandel graduated Summa Cum Laude from Yale University in 1981, and completed her MD degree at Columbia University in 1985. She then went on to a General Surgery residency at the Massachusetts General Hospital in Boston (1986–1993). During her residency, Kandel completed a two-year surgical research fellowship with Dr. Judah Folkman at the Boston Children's Hospital, investigating mechanisms of tumor angiogenesis (new blood vessel development that "feeds" tumors). Kandel joined Columbia University in 1995, becoming the Director of the Charles Edison Laboratory for Pediatric Surgical Research in 2000 and, in 2001, co-organized the first Columbia University Arden House Symposium on Angiogenesis. She cofounded the Columbia University Vascular Anomalies Group in 1998, which became a leading resource in the New York City area.
Upon her recruitment to the University of Chicago in 2013, she organized the Vascular Anomalies Group at that institution, https://surgery.uchicago.edu/specialties/pediatric/csp/vascularanomalies/, which has similarly become a resource for patients and families in Chicago.
Kandel has recently developed a novel mouse model of lymphatic malformations, with her coinvestigator, Dr. Carrie Shawber. Combining her basic science research interest and clinical expertise, she seeks to advance the care of patients with lymphatic disorders using the molecular insights derived from this new line of research.
Submit a New Question
microcystic lymphatic micro adenoma
Question (Nina, ): Answer:

As per Dr. Kandel-

The entity described as "microcystic lymphatic microadenoma" is not a common description for a vascular malformation. For this reason, it is recommended that the patient be evaluated in a Vascular Anomalies program with the expertise and capacity to review the pathology; provide surgical care if needed; and provide appropriate medical treatment (such as systemic/oral sirolimus) if indicated.

Congenital Lymphatic Malformation/Part 2 of my question
Question (Renza, ): Answer:
Congenital Lymphatic Malformation
Question (Renza, ):

Hi, my son (now 6) had chylothorax during pregnancy. When born, doctors diagnosed possible lymphangiecstasia (MRI). At age 2, sirolimus treatment was started (2 yrs): chylothorax completely re-absorbed; he presents no problem at all. Is there an exam to assess if the disease is latent or fully resolved? thank you

Answer:

As per Dr. Kandel
There is no standard test. A normal physical examination and functional good health would certainly be reassuring. Remnants of the original lesion, if any persist, might nor be important if they do not impact overall health and development.

Lymphangioma
Question (Theresa, ):

I was born with a Lymphangioma tumor of the tongue, only the sides of my tongue are normal. As a child I had complications, swelling, pain, bleeding, but once I passed puberty, the problems diminished substantially. Now I am postmenopausal, and I am having problems again, swelling, pain, and bleeding. In fact, on the tip of my tongue I now have what looks to me like a big blood blister. I have gone to a specialist, and he thinks I have developed a hemangioma. A ten-day regime of Steroids, helps, makes it feel better and look better, but that is short lived. Within days after stopping the steroids, it starts hurting, swelling and bleeding again - that's both the Lymphangioma and the Hemangioma that do that. When I was young, I remember my doctors telling me that I would probably have trouble with my tongue after menopause. So my question is, is it at all possible that these problems could be hormonal?

Answer:

As per Dr. Kandel,

I do not have information about the effect of hormones on lymphatic malformations in the tongue. However, there is some data that suggests that beta-blockers (propranolol) can sometimes be helpful in this setting. You might want to discuss with your caregivers.

Neonatal Chylothorax
Question (Beth, ):

Hi. I work in parent support in a NICU. I have a new family with a term infant with chylothorax. I have been trying to find resources that address this condition that are not full of jargon and written only for medical professionals but that also are written for educated and curious parents. Can you point me in the right direction? Thank you! Beth Bishop

Answer:

Dear Beth,

There are not too many reports written about neonatal chylothorax, and unfortunately too little is understood about the biology of this condition, and how best to treat it—so (with regret) I can't point you in a useful direction.

I'd certainly be glad to speak with the parents if that would be any help.
All the best,
Jessica Kandel