This thought piece is curated by Lympha Press.
A guest blog post by Brandy McKeown OTR/L, CLT-LANA, CLWT. This is a 15-minute read.
My passion is incorporating excellent lymphedema therapy into private practice settings, which yields positive outcomes for people with lymphedema. Helping practices become profitable is my specialty.
Through the years, I made many missteps while attempting to make my own practice successful. In this article, I'd like to share some stories about my experiences and a few words of wisdom for anyone trying to do the same.
Falling, Failing, and Finding the Right Path
When setting up a lymphedema program or practice, it's easy to trip up on the details and fall into trouble. It's an enormous challenge to start a new practice from the ground up or help a failing lymphedema clinic become self-sufficient and profitable.
Here's a personal story that illustrates this challenge. Dr. Kenneth Harper has a successful vein practice in Macon, Georgia. He brought me in to help him establish a lymphedema practice, which took multiple years to get up and running. Our first approach was to run the practice with a registered nurse (RN). Next, we had a massage therapist run it.
For quite a long time, we were challenged to get the practice to a point of profitability. In particular, we struggled with insurance reimbursement, which can be frustrating. Setting up billing, working with insurance processors, and most importantly making the practice profitable without sacrificing patient care was exceptionally difficult.
Despite many setbacks, Dr. Harper determined to make the practice successful for both practitioners and patients. Eventually, I convinced him to switch to running the practice with the help of occupational therapists like me. This was the missing piece: lymphedema with therapy-based practitioners. Finally, we were able to establish a very successful lymphedema practice within his vein practice.
Today, he has an occupational therapist and two occupational therapy assistants who work with him. I had a wonderful time helping him build a small, independent lymphedema private practice from the ground up within Dr. Harper's thriving vein practice.
What You Can Learn From Our Experience
I continue to work with clinicians to set up therapeutic practices around the country. Right now, for example, I'm helping with a small practice that is almost complete in Kentucky.
Two key takeaways from the many experiences I've had setting up clinical practices:
No program can be functional unless it can be financially sustainable. Proper billing for services rendered is crucial for therapists to be paid for the labor-intensive jobs they do day in and day out.
There is no perfect formula for billing lymphedema. All codes have a process of trial and error due to the multiple processors for CMS insurance, the presence of workers' compensation pendings, and the variation in what works best for each clinic's billing area. It involves CMS-based CPT codes and the most recent ICD 10 codes. Are you confused by this lingo? You're not alone. Many occupational therapists and other professionals are operating in a different world from their reimbursement and billing departments. Educate yourself about CPT codes.
CPT Code Knowledge Contributes to a Successful Practice
To clarify, CPT codes are the current procedural terminology codes, which are five-digit numerical codes used primarily to identify medical services and procedures furnished by qualified health care professionals from the American Medical Association (AMA). The CPT codes provide orderly coding for public and private health insurance.
Within the codes, the most common in lymphedema work is 97140, which is manual therapy or myofascial release. It's used for all manual lymphatic drainage (MLD), meaning that any type of MLD therapy we use with our patients will be billed under this code.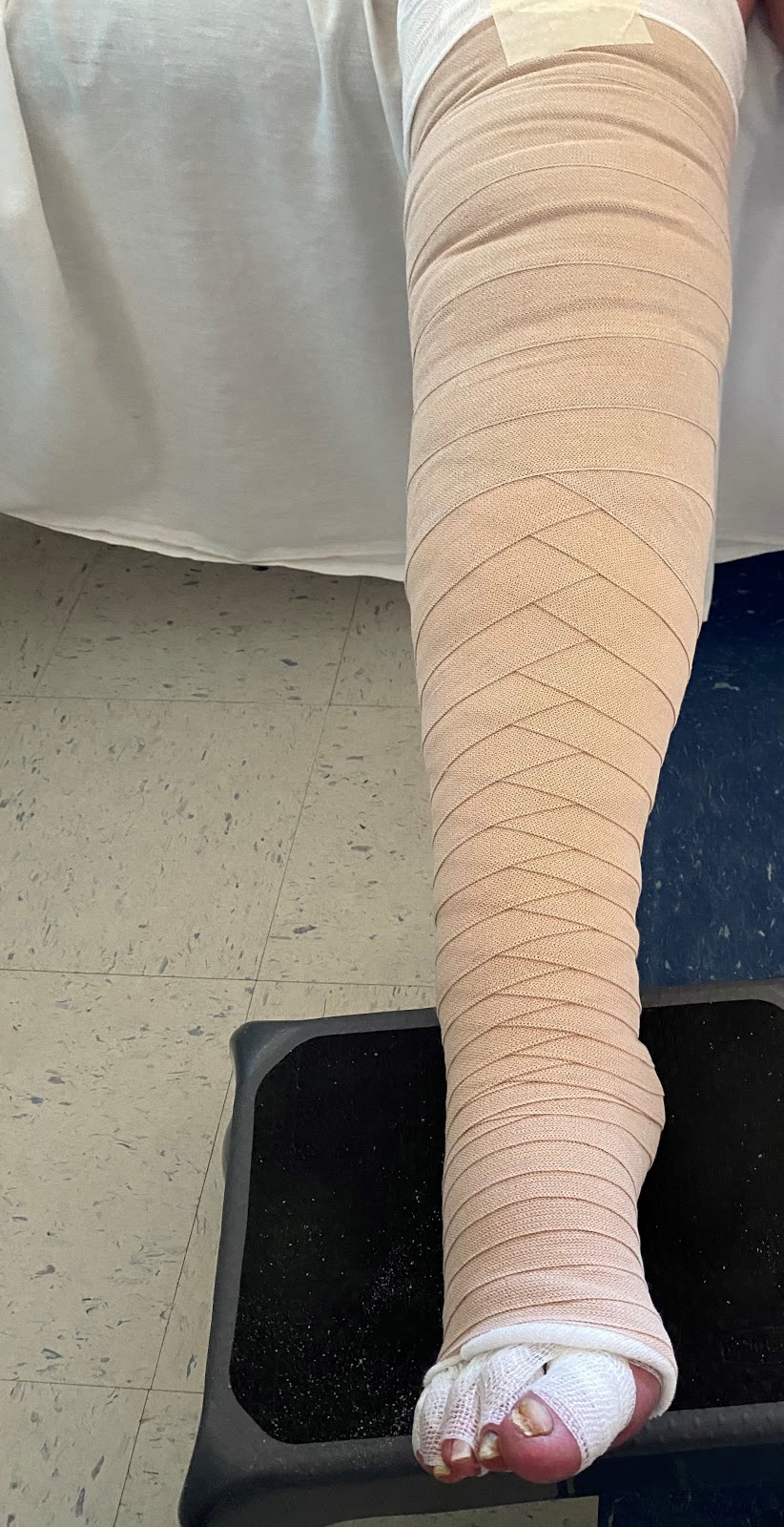 Here's an example of why these codes are so important to the success of your practice. Lymphedema therapists do a significant amount of skincare. We remove bandages, wash off the patient's extremities, administer lotion or cream as needed, and rewrap the patient's skin.
You might think, "Oh that only takes five minutes" and not bill it as an MLD process. But you should absolutely bill it. The patient received the benefits from it and you used your valuable time and experience to do it. Put those five minutes under the billable MLD code 97140 since the cleansing process is done in MLD pattern.
The next code I'd like to address is 97110, which is therapeutic exercise. Whenever you are teaching a patient how to do exercises or are doing the exercises alongside them, you should use this code. Even if you're just demonstrating a 10-minute refresher for the patient, bill it appropriately as ten minutes under 97110.
Code 97760 is orthotic management training. This refers to measuring and fitting compression garments. This is often a one-time billing but it doesn't have to be a one-and-done event. Check with the providers, excluding Medicare, to see how often the patient can use the code and whether it would be covered an additional time. The patient may need a follow-up measurement and fitting, so you should be reimbursed for that service.
The code for Activities of Daily Living/Self Care is 97535, and it generally reimburses more frequently than 97760. Many people think 97535 is a code that applies only to occupational therapists, but physical therapists can use it as well.
For example, compression garments are often part of a person's ADL, so you may need to teach your patient the routine of how to correctly put the garment on and take it off. As you can see, this might involve either code 97535 or 97760.
Don't Let the Processors Ruin Your Practice
Here's the reason I went into so much detail about the specific codes you can use in your practice. I want you to feel confident in placing value on your professional services and being properly paid for them.
Please don't allow the insurance processors to wear you out and make you avoid billing for services simply because it's a hassle. During one appointment, you may have multiple codes. Your patient may need five separate services to ensure they will thrive under your care.
Later, the processor may balk at reimbursement and tell you, "Nope, that's an OT code." But don't let them back you down. Go into the documentation and show them what was done and why it qualifies for reimbursement. We have to fight for what we know is right for our patients and right for our practice.
This might require a mental adjustment for you because you probably went into healthcare to help patients, not fight with insurance processors! But fighting this battle is essential to the survival of your practice.
A small change can make a big difference. When you perform MLD, it's typically reimbursed at somewhere between $23 and $26. Reimbursement for the strapping of toes, ankle/foot, and knee is usually between $50 and $65. Strapping the hand, finger, elbow, wrist, and shoulder ranges from $70 to $85.
As you can see, there's a huge difference between $23 and $85. If you're only billing for MLD for the entire process - even though you're actually strapping the leg, hand, and arm - you're missing out on the higher billing you are due.
Breaking Even vs. Being Profitable
You and your team of talented professionals are worth every penny of the correct billing. I urge you to assign the right codes and seek the payment you are worth. Billing properly can be the difference between breaking even in your practice and turning a profit. It can even be the difference between closing your practice and staying afloat.
When you look at the math, it's astounding. Imagine that you're seeing six to eight patients per day, and you've recently made a change that results in a $25 increase in insurance billing per patient. That's around $200 more per day. Multiply that out into $4,000 per month, and suddenly your practice might go from barely hanging on to reliably profitable.
For example, I worked with a practice that had one OT and wasn't using strapping codes in their billing. I'd introduced the concept, but they didn't adopt it right away and were still breaking even, month after month. Finally, they added the strapping codes to their billing and everything changed. The office manager called me and said, "Brandy, we're profitable."
Proper Ethics Lead to a Profitable Practice
I'd like to wrap things up by noting the importance of good judgment and medical ethics in everything we do. If you ever find yourself working in a practice that is overbilling like crazy or doing other things that make you question their ethics, don't walk - run away, as fast as you can!
Never stay in a practice with questionable policies and be careful of who you partner with. Watch out for practitioners who have very high rates of claims denials. If just one individual in your practice is doing something questionable, the entire practice is more likely to be audited. Play by the rules and keep everything above-board.
Document everything, and I mean everything. Here's another important tip: Prepare everything as if you could be audited at any time. Then, when you're eventually audited, you'll successfully survive it because you've been prepared all along.
You may need to designate an office manager to take charge of your paperwork and office activities so nothing falls through the cracks. This person can also help your office stay ahead of the curve on the constant updates to the rules for coding, billing, Medicare, Medicaid, and everything else. It's a lot of work, but well worth it to have a thriving practice.
I'm a huge supporter of lymphedema professionals and occupational/physical therapists, so please feel free to reach out to me if you ever need some encouragement and support. It's within your power to run a successful practice, and I'll be right here cheering you along the whole way.
---
About Brandy McKeown
Brandy Mckeown, OTR, CLT LANA, CLWT is a 20 year specialist in treating Lymphedema and Wound Care in South Georgia. She is Director of Lymphedema at Rehab Services of Tifton Lymphedema Center and successfully manages multi-location clinics; having started each lymphedema program from scratch. In addition, she has helped support several new clinic start-ups, consulted existing programs, and most recently has been working with vein clinics seeking to add profitable lymphedema programs to their existing practice. Mrs. Mckeown has also been recently named CEO of ILWTI allowing her to further her passion to lead, teach and consult with professionals desiring higher education and training in the field of Lymphedema and Wound Care.
---
LE&RN periodically publishes thought pieces on issues related to lymphatic diseases. These articles are meant to encourage discussion among the community and do not reflect the opinions of LE&RN.