Melanie Rose Chaite
November 26, 1993 — February 12, 2020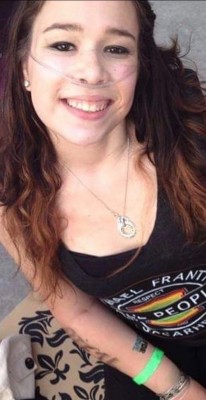 On February 12, 2020, many members of our community lost a dear friend and we all lost a hero. Melanie Chaite was born with lymphatic disease and lymphedema, and she struggled with these enormous health challenges throughout her life. She was only 26 years old when she died Wednesday, surrounded by family and friends.

Melanie inspired the founding of this organization and the accomplishments that have followed these last 22 years. She became the very heart of a movement that is changing the world for millions.

"The essay that I wrote for my college application spoke of a game of tug-of-war I played before senior year of high school at band camp," Melanie said in her Keynote Address at the 2012 New York Walk to Fight Lymphedema & Lymphatic Diseases. "I use this game as an analogy to what my own struggles have been, a kind of tugging against this disease for my quality of life, while also realizing I have to rely on my other teammates and supporters to pull with me."

"I am faced with serious medical challenges. That is why I am standing here to represent the millions of others suffering from lymphedema from around the world. I also represent the smaller population of patients who suffer from rare, chronic, and progressive lymphatic disease and malformations in other parts of the body. Personally, knowing that I am part of this incredible, history-changing movement that has been able to make such progress is really a profound experience."

The Board and Staff of LE&RN are deeply saddened by Melanie's passing and we extend our condolences to her mother Wendy (LE&RN's Founder), her father Benn, brother Daniel, and to her extended family and friends. We will continue to be inspired by the brave example of Melanie's life, which reminds us daily of the reason we must achieve our mission.