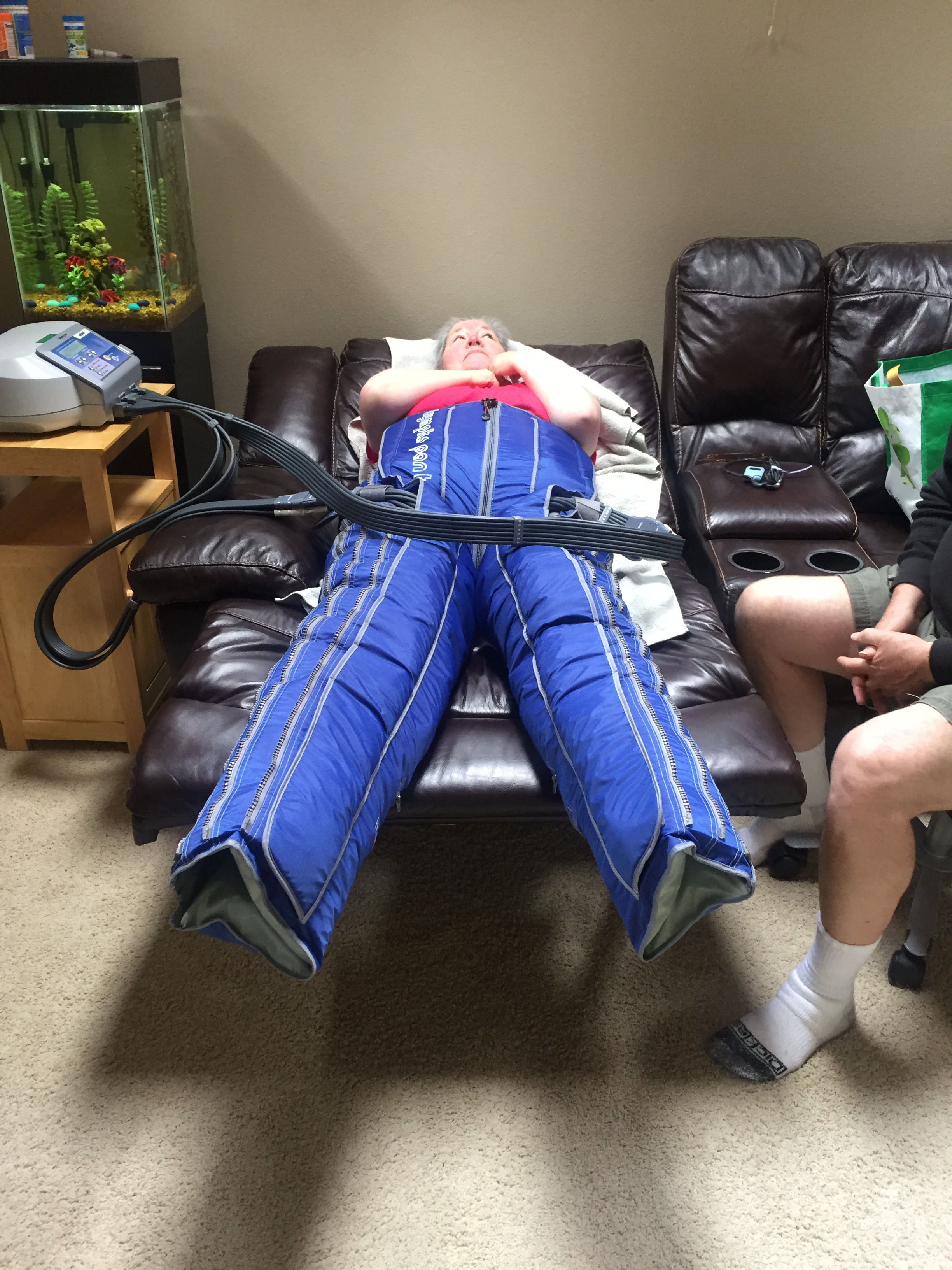 Jack and Mary Anne
Point Roberts, Washington
Not sure if I can do this without losing my composure so I will keep this in a text forum. Mary Anne is at least 3rd generation primary Lymphedema. The symptoms developed in her twenties and has progressed steadily over the years.
We try not to discuss the cavalier attitude of the physician that dismissed themselves from getting involved but will say it's negligence and thwarted any hope for my bride. We live is a small town about five miles square that is a retreat for Canadian vacationers in the summer. I mention this to bring lite to the callus behavior of people who stare at Mary Anne and project looks of disgust as though she is somehow neglectful towards herself and careless. Even neighbors who know of her struggle do the same and lend her no comfort. Yet at our small and quaint library, the ladies are the only ones who have shown concern and love for her well being. Eight months ago, both her legs were getting to the point where the skin was starting to crack and the risk of infection was imminent.
To Mary Anne's initial objection as she has been force feed that NOTHING can be done, we sought out the internet to find some hope. We managed to get a referral to a lymphedema clinic and started a bandaging regiment but discovered the therapist knew less than us. So understanding this we decided it was up to us and we had no option but to make it work. Mary Anne was initially wrapped with rolled bandages until we were able to drop the swelling to a level where we could get her into a ready wrap garment and other such appliances. We are on Medicare Advantage but this has been out of our pocket so we have been most attentive to the cost. Our next step is to move on to a Bio Compression device which, we hope, will bring a level of control to the Lymphedema but the Medicare is creating some delay and frustration as we have to get a physical and an insurance provider and the government to make it happen. I admit that this bigger than us and it gnaws at us daily. I see her pain both physically and mentally and wonder how she manages. Then we found LE&RN and learning that we are not alone brings us the spark of hope to fight on.
We thank you all and wish that none of this should had happen to any of you.
Jack and Mary Anne