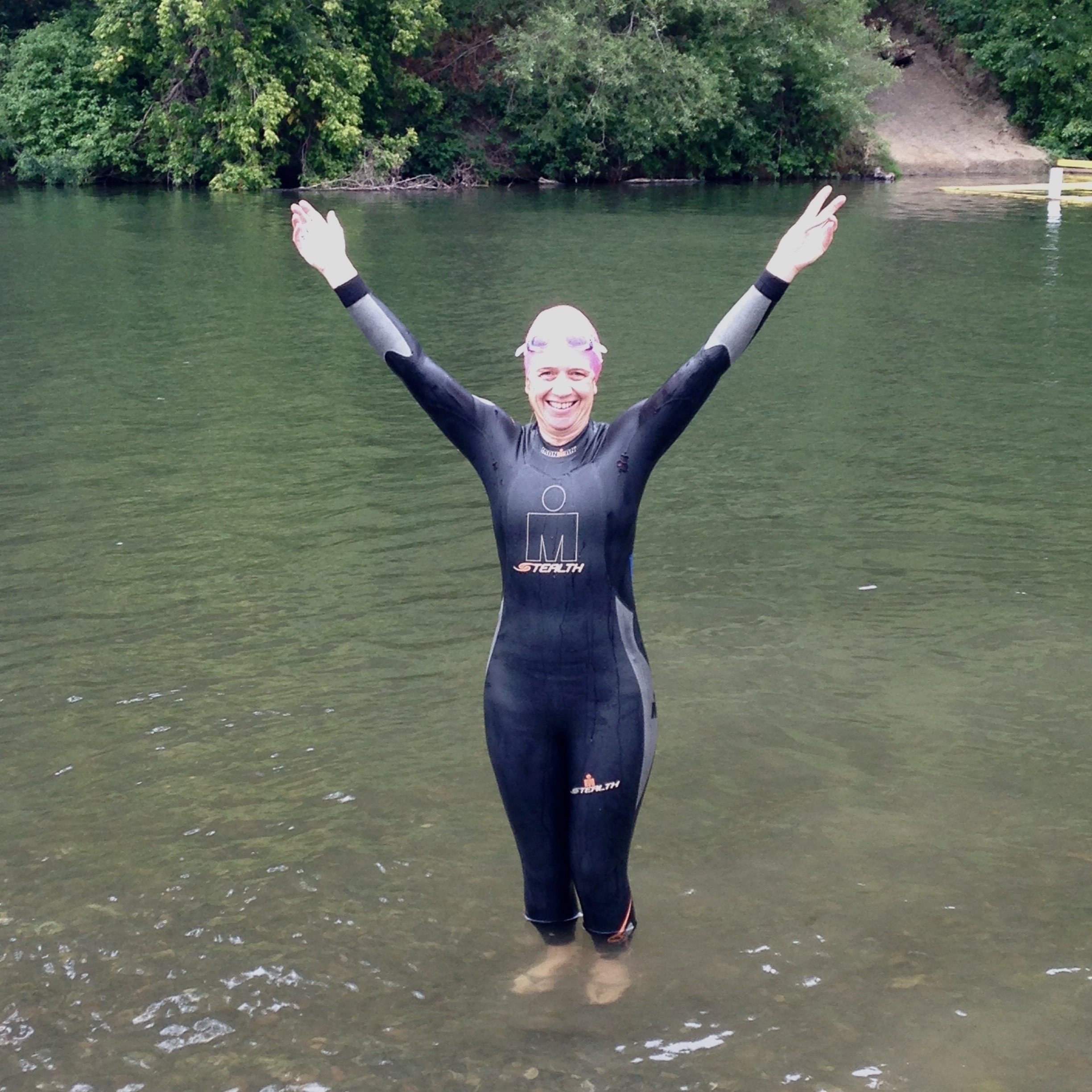 Julia Howe
Marina del Rey, California
In September 2011, as part of my treatment for cervical cancer, I had bilateral pelvic lymph node removal with a radical hysterectomy. At the time I was much more concerned about getting rid of the cancer than I was about trying to understand what the effects might be of lymph node removal. I got a very brief explanation that the lymph would find its own way back up the legs without those nodes, wore my compression tights for 6 months and got back on with my life.
I was pretty active before the op (and had done numerous triathlons and half marathons), so once I had rehabbed my pelvic floor and abs and damaged groin muscle I got back into running and cycling and felt pretty good. I moved to the US from the UK in the summer of 2013 and had no excuse for not getting outside and exercising. I joined the Fox Tri Team and started to enter some triathlons again.
Living in LA, you drive far too much and despite pilates and other workouts I found myself looking at my thighs and thinking 'are they mine?' They just looked flabby and nothing like my thighs pre-op. I chatted to my pilates teacher who, post-breast cancer, had lymphedema and she recommended I visit Dr Emily Iker in Santa Monica who is a lymphedema specialist. Dr Iker recommended wearing compression tights, having regular lymphatic massage, walking, light running, cycling, and swimming.
I said "fantastic." I am training for a triathlon and I am doing all of these things. She then proceeded to suggest I do a 30 minutes to 1 hour cycle at a time. At which point I thought I had better confess that I was actually training for a half-ironman and was doing 4 hour bike rides every weekend! She said this was a bit much! I completed VIneman 70.3 on July 12th. It was a 1.2 mile swim in the Russian River (nice), 56-mile bike ride through Sonoma vineyards (challenging but very beautiful), and a 13.1 mile run again in wine country (hot, hilly, and really tough).
I finished although I should have done more run training and made the day less painful. I don't honestly think it has had any negative impact on my legs. I think the recent hot weather in LA has had more effect to be honest. They definitely feel heavier than they did last year.
I couldn't imagine a life without exercise so post this race I am going to keep on exercising regularly, trying to do more of the sports that I know are good for my lymphatic system, e.g. swimming, hiking as well as running. I want to try to fit the jump rope into my weekly routine too. The most important thing I gained from seeing Dr Iker was an awareness of lymphedema and how to manage it.
Honestly, I am very lucky that I went to see her early and that I am already active and able to do the exercise that, together with massage and compression tights, is so important to the lymphatic system. Anyone living in West LA that wants to join me for a hike, bike, run should get in touch!