Ask Cheryl Brunelle, PT, MS, CCS, CLT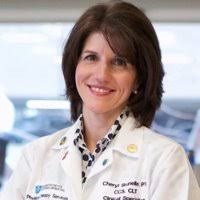 Areas of expertise:
Breast cancer-related lymphedema
Prospective surveillance/screening
Risk factors for lymphedema
Symptoms of lymphedema
Measurement of lymphedema
Treatment of lymphedema: manual lymphatic drainage, compression, exercise, self-care
Early intervention for lymphedema
Breast edema after breast conserving surgery/radiation
Cording/Axillary web syndrome
Exercise after breast cancer
Rehabilitation after breast cancer
Side effects of COVID vaccination after breast cancer treatment
Cheryl Brunelle is the associate director of the Breast Cancer-Related Lymphedema Research Program and a clinical specialist in physical therapy at Massachusetts General Hospital.
Cheryl earned her physical therapy degrees at the University of Toronto, Canada. She completed her lymphedema certification with Drs. Albert and Olivier Leduc in London, England, and with Klose Training, in Boston, USA.
Cheryl's clinical focus is on oncology program and staff development within the MGH department of physical and occupational therapy, and the evaluation and treatment of patients during and after breast cancer treatment, for issues such as surveillance and early intervention for lymphedema, shoulder morbidity, and deconditioning resulting from breast cancer and its treatment.
Cheryl is a strong proponent of lymphedema screening as standard of care for patients treated for breast cancer. Since 2005, over 6,500 women have been screened for lymphedema after breast cancer treatment within the MGH lymphedema prospective screening program.
Cheryl joined the Lymphedema Research Program in 2014, since which time she has published over 25 papers. She has collaborated on multidisciplinary teams to update hospital policies including recommendations for receiving the COVID vaccine after lymph node removal for breast cancer, as well as collaborated on a recent white paper establishing measurement guidelines for lower extremity lymphedema in research studies. She presents the team's research works regularly at national and international conferences. Cheryl's breast cancer-related lymphedema research interests include early intervention, measurement, effects of the COVID vaccine after lymph node removal, prospective surveillance, precautionary measures and breast edema.
Submit a New Question
Preparation for knee surgery in leg with primary lymphedema
Question (Serica, ): Answer:

Thank you for your question. I would recommend that if you regularly wear compression, you ensure your garments are new and up-to-date. Garments that may be specifically helpful after knee replacement, when the knee is swollen postoperatively, would include velcro-closure wraps or 'reduction' velcro-closure wraps, that can be cut down as your leg decreases in size. I am glad to hear the surgery in your other knee and both hips was successful. As after any operation, prevention of infection is key, and infection can certainly worsen lymphedema. It would be best to ensure that anyone touching near your incision practices hand hygiene before touching your leg and follow the surgeon's instructions regarding infection prevention. Regaining your mobility with the help of the therapy team will be key to ensure good circulation in the leg and ongoing use of your muscle pump which also helps fluid to clear. Best of luck with your surgery.

Weight loss and stability of lymphedema
Question (Shrinjoy , ): Answer:

Thank you for your excellent question. Each person's lymphedema course is different, so it is difficult to generalize. Lymphedema is a chronic disease, however, it can stabilize, and I see that likely more in cases of primary lymphedema than in lymphedema that is secondary to cancer surgery, for example. I am glad yours seems to have stabilized and is doing well even without compression. I will say, however, if your swelling is still not really well controlled (if the volume of the leg is still greater than the other side), I would suggest continuing with compression and reduction treatment as needed, to avoid lymphedema progressing to later stages. This is because in later stage lymphedema, the tissue changes to a more fat-dominant swelling, which really cannot be treated without surgery and can predispose the limb to infections.

As for weight loss, our research team found that weight loss did not decrease lymphedema risk in patients at risk for lymphedema after breast cancer. Katie Schmitz' research group found that weight loss did not improve lymphedema outcomes in her WISER trial. However, I would argue that weight loss, for those who are overweight or obese, has so many other health benefits, I would suggest aiming for attaining a healthy body weight. Many patients at risk for or with lymphedema struggle with weight loss on their own, despite healthy lifestyle behaviors. This is sometimes due to treatment side effects or hormonal changes. In those cases, working with a registered dietician and your physician can be helpful.

Pain relief
Question (Cynthia , ):

I had 30 Lymphnodes removed from one arm. I wear compression sleeve, self massage and exercise. Have used Lidocaine and continue Advil/Tylenol prn. Any thoughts on other pain relief options? Have tried Arthritis pain relief creams. Have you heard of hyperbaric treatments? Thank you

Answer:

Thank you for your question. I am wondering if your pain could be coming from a source other than lymphedema. There could be something orthopedic or neurologic, for example, in addition to any discomfort from swelling. In earlier stages of lymphedema, often the discomfort is described as heaviness, or fullness, or a sense of swelling. Pain can certainly be present in later stages of lymphedema, but it is always best to seek out any other issues that may be responsible for pain. These issues could be treatable and help to decrease the pain you are experiencing. I would suggest seeing your PCP, if you haven't already, for an evaluation and referral as appropriate, including to a certified lymphedema therapist if you have not already received management. You can use a Find a Lymphedema Therapist function on the LERN website found under 'Living with Lymphatic Disease'.

Cracked skin at base of toes
Question (Lorraine, ):

Lymphedema is worse on my feet, The skin at the base of my toes in front and in back is very, very dry and cracked. The dermatologist said to moisturize, but that doesn't seem to help. Is there any treatment you can recommend? Thank you.

Answer:

Thank you for your question. This can be a common problem. I would ask your dermatologist for their recommendation re: moisture lotion. Something heavier/more emollient is usually more helpful as this won't soak into the skin and disappear. Ensuring you apply this at night and in the morning, is helpful. If you wrap your toes for your lymphedema, ensuring there isn't a fold in the toe wraps as they approach the web spaces is helpful as wraps can dig into the skin, make sure you are monitoring for openings in the skin. If you feel there is an infection at any point, you should seek medical attention right away.

Ready wraps, vs velcro wraps, vs multilayered compression bandaging, vs patient self-bandaging.
Question (Anna, ):

What's the preferred self-wrap technique for chronic patients unable to fit in a compression garment and are unable to receive daily compression bandaging. Juzo velcro wrap vs ready wraps vs jobst farrow wrap vs self-bandaging. Which method is most comparable to multi layered compression bandaging from a therapist.

Answer:

Thank you for your question. If the goal is reduction, then a product suitable for limb volume reduction would be best. This would be either a reduction garment or self-bandaging. If patients are able to achieve good self-bandaging, this is a good option. Often this takes more than one session, and patients need to be aware that bandaging pressure decreases over the first 24 hours, so ideally, wraps should be reapplied daily.

Exercise
Question (Cheryl , ): Answer:

Thank you for your question. I would suggest that if you have a diagnosis of lymphedema or lipedema in your lower extremities and are advised to wear your compression hose daily by your lymphedema therapist or doctor, I would suggest you do so when rebounding as well.

Lymphedema on ball of foot
Question (Debbie, ): Answer:

Thank you for your question. Lymphedema on the ball of the foot can be quite uncomfortable. You may wish to increase compression to 30-40 mm Hg or you may wish to try a toe cap and an open toe stocking, which sometimes can help that area. You could also try metatarsal pads, as you mention. If you wear night compression, a garment that has good foot and toe compression would be important.