Ask Cheryl Brunelle, PT, MS, CCS, CLT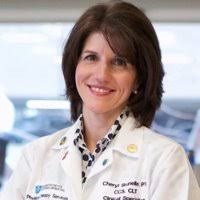 Areas of expertise:
Breast cancer-related lymphedema
Prospective surveillance/screening
Risk factors for lymphedema
Symptoms of lymphedema
Measurement of lymphedema
Treatment of lymphedema: manual lymphatic drainage, compression, exercise, self-care
Early intervention for lymphedema
Breast edema after breast conserving surgery/radiation
Cording/Axillary web syndrome
Exercise after breast cancer
Rehabilitation after breast cancer
Side effects of COVID vaccination after breast cancer treatment
Cheryl Brunelle is the associate director of the Breast Cancer-Related Lymphedema Research Program and a clinical specialist in physical therapy at Massachusetts General Hospital.
Cheryl earned her physical therapy degrees at the University of Toronto, Canada. She completed her lymphedema certification with Drs. Albert and Olivier Leduc in London, England, and with Klose Training, in Boston, USA.
Cheryl's clinical focus is on oncology program and staff development within the MGH department of physical and occupational therapy, and the evaluation and treatment of patients during and after breast cancer treatment, for issues such as surveillance and early intervention for lymphedema, shoulder morbidity, and deconditioning resulting from breast cancer and its treatment.
Cheryl is a strong proponent of lymphedema screening as standard of care for patients treated for breast cancer. Since 2005, over 6,500 women have been screened for lymphedema after breast cancer treatment within the MGH lymphedema prospective screening program.
Cheryl joined the Lymphedema Research Program in 2014, since which time she has published over 25 papers. She has collaborated on multidisciplinary teams to update hospital policies including recommendations for receiving the COVID vaccine after lymph node removal for breast cancer, as well as collaborated on a recent white paper establishing measurement guidelines for lower extremity lymphedema in research studies. She presents the team's research works regularly at national and international conferences. Cheryl's breast cancer-related lymphedema research interests include early intervention, measurement, effects of the COVID vaccine after lymph node removal, prospective surveillance, precautionary measures and breast edema.
Submit a New Question
Ready wraps, vs velcro wraps, vs multilayered compression bandaging, vs patient self-bandaging.
Question (Anna, ):

What's the preferred self-wrap technique for chronic patients unable to fit in a compression garment and are unable to receive daily compression bandaging. Juzo velcro wrap vs ready wraps vs jobst farrow wrap vs self-bandaging. Which method is most comparable to multi layered compression bandaging from a therapist.

Answer:

Thank you for your question. If the goal is reduction, then a product suitable for limb volume reduction would be best. This would be either a reduction garment or self-bandaging. If patients are able to achieve good self-bandaging, this is a good option. Often this takes more than one session, and patients need to be aware that bandaging pressure decreases over the first 24 hours, so ideally, wraps should be reapplied daily.

Exercise
Question (Cheryl , ): Answer:

Thank you for your question. I would suggest that if you have a diagnosis of lymphedema or lipedema in your lower extremities and are advised to wear your compression hose daily by your lymphedema therapist or doctor, I would suggest you do so when rebounding as well.

Lymphedema on ball of foot
Question (Debbie, ): Answer:

Thank you for your question. Lymphedema on the ball of the foot can be quite uncomfortable. You may wish to increase compression to 30-40 mm Hg or you may wish to try a toe cap and an open toe stocking, which sometimes can help that area. You could also try metatarsal pads, as you mention. If you wear night compression, a garment that has good foot and toe compression would be important.