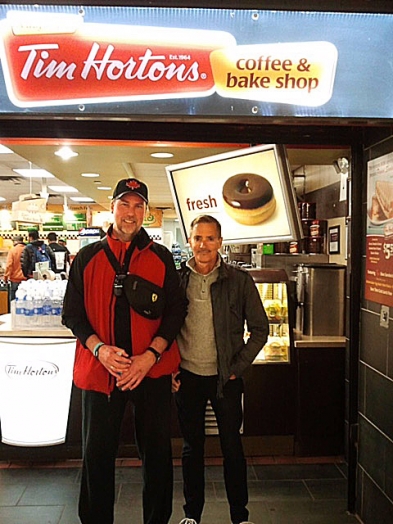 a guest blog post by Stephen (Steve) Kelland, Canada Chapter Chair. The tenth LE&RN 'blog' from the initial LE&RN: International Chapter… Canada.
Perspective is everything. With Thanksgiving Day – Canada fully in the rear-view mirror, here is a message from a positive look back at a seminal moment in the advocacy life of #LymphoGWG (Lymphedema – Guerrilla Warrior General), a short five short years ago on 18 October 2015.
Picture it, prior to becoming LE&RN: Canada Chapter Chair or #LymphoGWG - previously, Canada MALE (Male Advocate for LymphEdema) – this long-time afflictee of that chronic, progressive 'scourge' of a disease, known as lymphedema or "LE", was fortunate to have a most 'Canadiana' of moments in the most American of locales… with LE&RN CEO & President, and true Leader in the "Lymphedema (LE) Community", William (Bill) Repicci.
(And yes, Dr. Melissa B. Aldrich, long before your humorous "LE&RN Centers of Excellence – Virtual Summit", 2020, remarks, I went up to Bill, introduced myself, shook his hand, welcomed him to my personal fight vs LE… plus held a most determined discussion of what it's like, or what it was like circa 2015, to … live with LE!)
That conversation, joined by my life's partner & "Co-Champion for the Cause" (Elaine McArdle), at a Tim Hortons café in Manhattan, New York City, signaled "the beginning of the end" of my quest to find a serious LE organization, i.e. one that was inclusive (male #Lympho & female #Lymphie types of afflictees of both primary & secondary LE, with impacts to any/all parts of the body human), plus – key – that was adamant about a pursuit of education & research leading to a cure(s). Historically & fortunately, that meeting also ushered in the "end of the beginning".
On that point, two memorable advocacy-based points resonate with me to this day, as follows:
1/ "World Lymphedema Day" nexus – the 'awareness-only' day designated in early March to be recognized in pockets of Canada, U.S., U.K. & Australia, beginning in the 1990s would be transformed, nay replaced & supplanted, by "World Lymphedema Day – 6 March". Pursuing our "Lymphedema (including Lymphoedema) Community" needs for attention, care, support plus education & research, would become a global fight vs LE… & one no longer self-limited, by titling, to mere awareness – we need (& deserve) more; &,
2/ Advocacy… a silent "&", no longer – a no-nonsense afflictee & fearless advocate-at-large for "the cause", I was extremely pleased with the meeting of the minds with the leader & the organization that he leads: Lymphatic Education and Research Network or LE&RN, by naming, "says what it does & does what it says". It dovetails snugly with my two-fold adage: "think like someone of action; act like someone of thought." Clarity of thought, action & purpose!
By the close of our exchange, the idea of #WLD was not 'buried' rather it was 'planted'. It would formally 'sprout' in the coming period, with lasting benefits for the global
"Lymphedema Community." Plus, while LE&RN had an impressive & growing group of domestic American chapters, the idea of International Chapters, starting with neighbouring Canada, was born. Both during the coffee & in the days following, I vividly recall my fervent belief plus hope that not only would Canada begin the 'family' growth of LE&RN's International Chapters (now at ten (10) in 2020), but, the Canada Chapter would ensure that the "&" of LE&RN, heretofore a mere abbreviated conjunction for 'and', would become representative of the Canadianism, pronounced "eh!", plus stand – vocally – for A as in Advocacy. With the establishment of Canada Chapter, "LE&RN" would be Lymphatic Education, Advocacy, (+) Research Network. This perspective & approach was indelibly etched on the objectives of the Canada Chapter in a LE&RN blog from about three years ago – LE&RN Canada Chapter Objectives-Mission-Vision-Values.
Circling back to the opening of this blog, perspective is everything… but appropriate language & appreciation for historical events are both instrumental to that perspective – remember, clarity of thought, action & purpose.
Sir Winston Churchill, 20th century British statesman & prime minister, solemnly declared, in 1942, "now is not the end. It is not even the beginning of the end. But it is, perhaps, the end of the beginning". This was Churchill's assessment during a pivotal time of the Second World War… a tremendous war of several battles the outcomes of which were never guaranteed & during which considerable toiling & trudging transpired to "fight the good fight". As stated in the earlier 2016 Canada Chapter launch message, I can recall that when I first met LE&RN CEO & President, William (Bill) Repicci, he used terms like "lymphedemic" and "fight" when trying to define what he saw in the 'world of lymphedema' plus what type of reactive & concerted movement was needed to tackle & ultimately defeat LE. As a long-time LE advocate in Canada, I could not agree more with Bill that the ultimate goal was (& is!) a cure. But cure is still a "four-letter word" because LE can be (& is!) a formidable and progressively oppressive adversary. We are in a war vs LE; the battle must continue… until defeated, LE will not relent, so neither can we! Whether viewed as "the beginning of the end" or "the end of the beginning", the past five years have witnessed tremendous progress in the fight, but to win, the
"Lymphedema Community" needs to ALL (afflictees, caregivers, supporters) join the battle. For Canadians, if further inspiration-motivation-activation is needed to fully engage, please recall the words of, arguably, our greatest hero: "dreams are made possible, if you try" – Terry Fox, athlete, humanitarian, & cancer research activist (1958-1981).
So, with that retrospective view of the past five years, in a nutshell, & with the next edition of THE day, OUR day, on the annual calendar of the "Lymphedema Community" not all that far in the future, please consider this note as a rallying cry to action (or continued action).
At least in the case of the Canada Chapter, we shall not forget 'from whence we came'.
More importantly, we will not forget… why!
Final note – as his nine-year anniversary at the helm approaches, a heartfelt THANK YOU to Bill for thoughts, actions & dedicated purpose in the leadership of the growing, global family of chapters that is … LE&RN! Your inclusive work & beneficial efforts are appreciated by the entirety of the "Lymphedema (LE) Community". Bravo!
Good lymphatic health!
Stephen (Steve) Kelland
(18 October 2020 – Ottawa, CANADA)
Lymphedema - Guerrilla Warrior General ("Lympho G.W.G")
"Shrinking the Lymphedema World, while Strengthening the Lymphedema Community...upside & down under"!
As always, comments, ideas, feedback are encouraged & welcomed at:
FB: Lymphedema - LE Nexus Canada
Email: LymphCanada@gmail.com / CanadaChapter@LymphaticNetwork.org
Plus, under "seek & ye shall find", please consider this as your personal invitation to "learn" about anything & everything lymphedema (LE) – & lymphatic diseases (LD) – by visiting: Lymphatic Education & Research Network