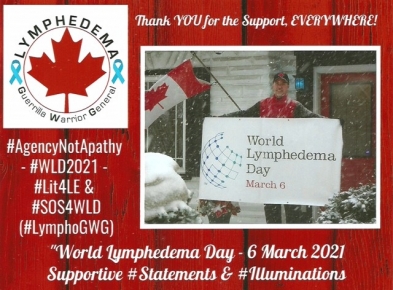 A message from Stephen (Steve) Kelland, LE&RN Canada Chapter Chair
#SOS4WLD plus #Lit4LE – #AgencyNotApathy!
Tic, tic, tic, tic…
Dear "Lymphedema (LE) Community" afflictees, caregivers & supporters – we are SIXty days until edition SIX of our SIX March 2021, global recognition of "World Lymphedema Day" (WLD).
This is a plea for YOU to #ShowUp & #Engage -- #AgencyNotApathy, while fighting for #SolutionsNotSympathy.
The challenges faced by male ("Lympho") & female ("Lymphie") afflictees is not brief, minor, nor simple: much like treatment for acute illnesses compares to processes for chronic maladies, this fight is a series of ongoing battles – yes, a war – until a cure(s) is found, whether developed or discovered.
With the foregoing in mind, please consider this the renewed "call to action" for this necessary war on LE (lymphedema or lymphoedema). Apt, perhaps, for 'rousing the troops' of this war, is a paraphrased exclamation from U.S. wartime General, George S. Patton:
"Do something – lead, follow, or get the hell out of the way!"
With apology for any offense taken by the salty language, the straightforward message is clear. Please, for your sake, mine, in fact the whole of the global "LE Community" …think about what living with this chronic, progressive, oft-debilitating and/or socially stigmatizing & medically marginalizing 'scourge' of a disease means to YOU, & then ACT/(RE)ACT. YOU have 60 days until THE day, OUR day, on the annual calendar of the "LE Community", to plan, prepare & promote. Established, thankfully – with LE&RN leadership – in 2016, WLD signaled a sea-change of advocacy efforts that were, under a previous naming of an LE day, heretofore somewhat self-limited by the word "awareness", & unambitious by the absence of a word denoting the global need for this attention-/education-raising pursuit, i.e., "world".
While this brief "call to action" is a heartfelt plea on a platform inviting any/all within the "LE Community", wearing his LE&RN: Canada Chapter, Chair hat, your blogger directs a strong appeal to those who call Canada "home". Since establishment of WLD 2016 – which purposefully coincided with the start-up & stand-up of LE&RN's first International Chapter in Canada – year-round advocacy efforts by your blogger have been punctuated & amplified by promotional, educational, communications campaigns for OUR day. (On the LE&RN website plus Facebook page "Lymphedema – LE Nexus Canada" can be found further details of previous, successful Canada-wide & beyond campaigns). For the uninitiated, "World Lymphedema Day – 6 March" anchors agency activity in March, which is increasingly "Lymphedema Month" for action, attention, plus educational awareness (Check out the short WLD-LE&RN promotional video, with global "LE Community" representation, as narrated by Academy Award-winning Actor & LE&RN Spokesperson, Kathy Bates. Thank you, Ms. Bates!).
For this year, #WLD2021, the heart or "pump" of the main campaign is… #SOS.
#SOS, in the traditional sense of the acronym, is a global maritime call for help in time of emergency. With "lymph" deriving from Latin for "water" (the root sense of all-things marine or maritime), the segue is clear in terms of urgency plus need. Further, to close the circle of the thought that opened this blog with a 'six" theme (no, there was/is no intent for some satanic linkage – 6-6-6), what the Canada Chapter campaign, under its prime messenger of #LymphoGWG (Lymphedema – Guerrilla Warrior General), is presenting is:
#SOS – the emergency of OUR appeal for attention, care, & support;
#SOS – how YOU can engage your community leadership (municipal, regional province/state, national and/or international community), by seeking a "Statement of Support"; while achieving a "gesture" (statement, proclamation, resolution, or illumination*) that would…
#SOS – "Support Our Six", i.e., the 6th edition of OUR 6 March WLD!
[Note – with precautionary public health advice related to the ongoing, global Covid-19 pandemic likely to continue for the foreseeable future, one might muse that community leaders could "Support Our Six" while "Keeping Their Six", i.e., the recommended imperial social-distancing measurement of six (6) feet. Support, whether virtual or in-person, is key.]
LE&RN: Canada Chapter encourages & invites any/all readers to communicate any #SOS4WLD initiatives they might achieve for WLD2021. At time of publishing of this blog, "Statements of Support" continue to be secured, plus, examples of growing & noteworthy #Lit4LE teal illumination commitments for WLD2021 have been received for:
1/ Canada's Tower (CN Tower/Tour CN) – Toronto, Canada;
2/ Niagara Falls – Niagara Falls, Canada; &
3/ La Lanterna / "The Lighthouse" – Genoa, Italy.
As always, other comments, ideas, feedback are encouraged & welcomed at:
Email: CanadaChapter@LymphaticNetwork.org
Facebook: Lymphedema - LE Nexus Canada
Good lymphatic health!
Stephen (Steve) Kelland
(5 January 2021 – Ottawa, CANADA)
Lymphedema - Guerrilla Warrior General (LymphoGWG) & LE&RN: Canada Chapter, Chair
"Shrinking the Lymphedema World, while Strengthening the Lymphedema Community...upside & down under"!