Pictured above: Elaine (left) and Steve (right) with Prof/Dr. CA Campisi (center) in Genoa, Italy, jubilant at having, finally, received hope for a lasting treatment for Steve's LE via microsurgical intervention.
Guest blog post by Elaine McArdle, Ottawa, CANADA, with a postscript from Stephen Kelland, Ottawa, CANADA.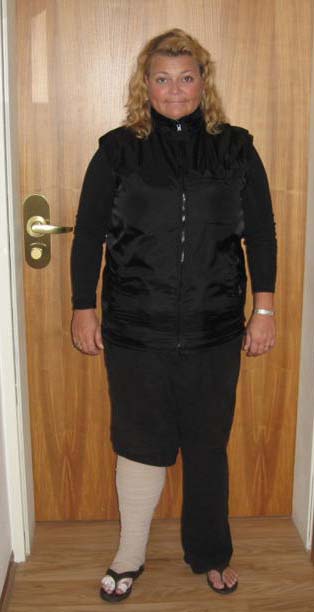 I have been living with lymphedema now for nearly twenty years. When I first heard the word 'lymphedema', it didn't set off any alarm bells because, honestly, I had not a clue what it was. Although I had routine medical check-ups, I have never been tested for lymphedema, my doctor had never mentioned it, nor had I ever seen pamphlets in any medical office. Throughout my twenty years in government service, I never saw lymphedema, or lymphedema organizations, as a charitable entity to which I could donate money during annual workplace campaigns. Unlike mainstream diseases such as cancer, diabetes, and cardio-vascular maladies, lymphedema had not yet 'arrived' in Canada, or so one would have been led to believe.
During the last twenty years, the lymphedema journey has taken me to Montreal, Toronto, Stowe (Vermont), Boston, New York City, Walchsee (Austria) and Genoa (Italy), all in search of the elusive solution or cure. There were countless consultations, manual lymphatic drainage sessions, bandaging, exercise routines, dietary regimes, and surgical interventions. There were numerous visits to emergency units, week-long hospital stays and daily treatments for infections. And on top off all that, let's not overlook the physical, emotional and psychological suffering that comes with the disease.
Everything changes in your life when you live with lymphedema, and on really bad days, I flatter it to call it living, at least not what it once was; free to do what one wants, travels anywhere one wants, eating what one wants, planning (and living) the future that one wants.
To those who say, 'I didn't choose lymphedema, it chose me', I understand where you are coming from, but in fact, in a sense, I did choose lymphedema. On 14 August 2004, I married the love of my life, a strong, intelligent, active man who suffers from primary lymphedema. At the beginning, his symptoms were mild, barely visible, but this progressive disease stayed true to its history. Swellings became more frequent, risks of infections increased, mobility decreased, and our closets began to look like a warehouse for compression garments. Our life swung like a pendulum from hopeful to hopeless, from 'it could be worse' to all but giving up, and from vitality and optimism to despair and helplessness. At times, nothing I said or did had an impact, good, bad or indifferent.
My aim in writing this article was to be frank and honest about how lymphedema has had an impact on my life as well. I sure wish that expert advice and guidance had been available to me to better position me to deal with it. In no way is it my intention to come across as the victim in this. I would never profess to fully understand what it is like to have lymphedema but as the spouse of somebody who has the disease, being informed and involved has made the journey a bit smoother, for both of us.
Today, there are more opportunities to remain current with lymphedema research, education and progress through key networks like LE&RN and its community of chapters, both domestic in the U.S. and the growing global family of international chapters…which began in Canada! There are also opportunities to advocate or otherwise get engaged and involved through social media, conferences, symposia, and events in your area, wherever in the world you call home. We all need some kind of support to get through the difficult times. We don't have to do it alone.
Elaine McArdle, Ottawa, CANADA
---
Post-script by Stephen Kelland (pictured below with Elaine in Innsbruck, Austria, on a therapy 'break day' during a four-week inpatient stay at Wittlinger Therapiezentrum, Austria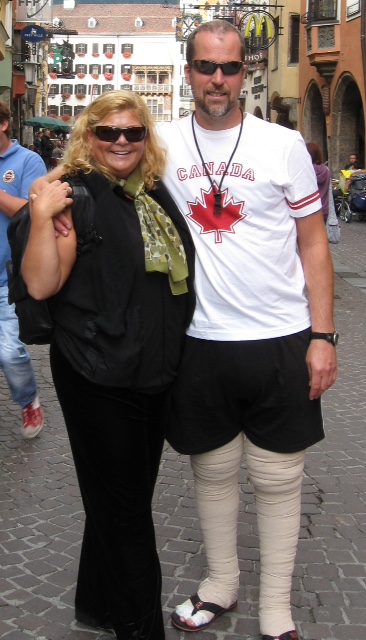 Since the establishment of "World Lymphedema Day – 6 March 2016", the Lymphedema (LE) Community no longer recognizes national boundaries in its fight vs. this chronic, progressive 'scourge' for which there is (yet) no cure. Great attention is often placed on those Community members afflicted with this disease, whether un-/under-/mis-diagnosed, plus the compassionate and interested researchers, scientists and medical practitioners who are our allies in this quest for treatments and cures. Additionally, the garments and durable goods manufacturers with their representative vendors, plus LE-savvy therapists and engaged societal leaders, notably in the various political arenas, also receive the spotlight of our recognition and appreciation…and deservedly so.
But, dear reader, supporter and follower of LE&RN, please do not overlook those who are our top supporters in this battle…those loving and round-the-clock living with us who have LE. Self-motivational mantra-type expressions aside (ex. "I have lymphedema; it does not have me"),
You don't have to do this alone. We don't have to do this alone. Wishing a heartfelt and enduring thank you to all who support the Lymphedema Community, in its many faces and roles, I add Happy Canada Day to those in Canada & Happy Independence Day to those living stateside.
Good health!
Stephen Kelland, Ottawa, CANADA