pictured above: Indocyanine green lymphography (ICG) device (Photodynamic Eye, Hamamatsu Photonics K.K, Japan). A small compact device can visualise the lymphatics with tracer injection.
A guest blog post by Dr. Hiroo Suami and Louise Koelmeyer. This is a 12-minute read.
Are you familiar with indocyanine green lymphography (ICG)? This innovative method of mapping the lymphatic system has become extremely important in the field of lymphedema research and treatment.
In this article, two world-renowned lymphedema experts will share their thoughts about ICG and how it helps us understand and monitor the lymphatics. First, Dr. Hiroo Suami describes his background with lymphedema and how he has used the ICG device. This will be followed by insights from Louise Koelmeyer about using the ICG at the ALERT Program in the Faculty of Medicine, Health & Human Sciences at Macquarie University in Australia.
Indocyanine green lymphography (ICG) device (Photodynamic Eye, Hamamatsu Photonics K.K, Japan). A small compact device can visualise the lymphatics with tracer injection.
Dr. Hiroo Suami: Discovering and Mapping the Lymphatics
I came to study the lymphatics through libraries by examining very old books. Many people don't realize that much of our knowledge about the lymphatic system comes from information that is at least 100 years old.
Yet despite the fact that we have a long written history regarding the lymphatics, when I would show colleagues what was in these old books, it wasn't something they immediately recognized. Their familiarity with the lymphatic system was quite limited and many of them didn't actually realize what the lymphatics looked like.
After more than a decade of work as a reconstructive microsurgeon, in 2009 I joined the Department of Plastic Surgery at the MD Anderson Cancer Centre in Houston, Texas. I participated in a plastic surgery operating theater, where I assisted with the lymphedema procedures for more than 250 patients. It became clear to me that one of the common issues in surgery was that even excellent surgeons didn't have a reliable way to map the precise locations of the lymphatics.
For example, look at a procedure called lymphaticovenous anastomosis, known as LVA, which is finding the lymphatic vessel and making a shunt to the vein in the distal side of the limb. The concept isn't anything new, and an American plastic surgeon tried this surgery in an animal in the 1960s. A series of clinical trials were performed by an Australian plastic surgeon in the 1970s but it's always been hard for surgeons to locate the lymphatics with precision.
With the help of the Indocyanine Green Lymphography (ICG) device, the lymphatics are illuminated and it's very easy to see them mapped throughout the body. This technology involves a camera that is almost like night vision goggles glowing with an infrared map. Of course, it's not actually goggles - it's a camera that collects the information and displays the image on a monitor - but the concept is similar. As you can imagine, it can be very helpful during surgery.
In 2015, I left Houston to travel to Australia and work with Louise Koelmeyer, the Lymphedema Program Manager for the ALERT Program in the Faculty of Medicine, Health & Human Sciences at Macquarie University. At this point, I would like to introduce you to Louise, who will share her thoughts about a proactive approach to monitoring patients who are at risk for developing lymphedema.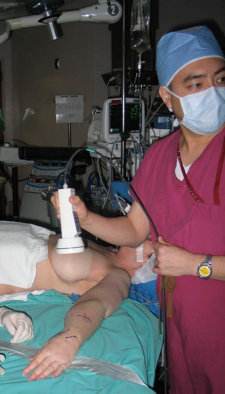 Image: Dr. Suami operates the ICG device in OR prior to LVA surgery for the arm lymphedema patient.
Louise Koelmeyer: Monitoring our patients for lymphedema
First, I'd like to explain a bit about our program at Macquarie University. ALERT stands for the Australian Lymphedema Education, Research, and Treatment Program, which is the university's comprehensive multidisciplinary program that works to offer positive outcomes for those at-risk of or living with lymphedema. Our program is quite young and was founded in 2012 under the directorship of Professor John Boyages, a breast cancer specialist and radiation oncologist.
The three missions of the faculty are: heal, learn, and discover. "Heal" is our treatment arm of the ALERT program, with lymphedema therapists, rehabilitation specialists, and plastic surgeons coming together to offer multidisciplinary assessments and management in all aspects of conservative and surgical management for lymphedema. We offer liposuction surgery for advanced lymphedema and have also introduced the ICG device into lymphatic microsurgeries including LVA and LNT (lymph node transfer) surgeries.
For the "learn" part of the mission, we have developed transformative learning experiences for healthcare professionals wishing to specialize in the area of lymphedema. We have developed accredited lymphedema education programs enriched by the latest research and excellent clinical care taking place in our environment. Health professionals can be trained as lymphedema specialists and then continue their professional learning by completing advanced skill-based CPD offerings. We see ourselves as a center of excellence in the education, research and treatment space for lymphedema.
In terms of "discover," we are constantly working with people from all around the world to build our expertise in lymphedema research and have participated in international RCT's as well as in house investigator studies. We're starting to build an international reputation.
Over the course of nearly 1,000 ICG assessments over the last 3 years by Dr. Suami and our multidisciplinary ALERT team our techniques have changed as time has gone by and our experience has grown. The MLD (massage) technique and the pressure and speed we use have changed due to the use of the ICG.
For patients, the biggest change in using the ICG is that they get a personalized approach to their own conservative therapy. Previously, we recommended that every patient take a generally identical approach. Everything might be massaged down one side of the body or to specific lymph node regions.
Prior to breast cancer surgery, everyone's morphology is mostly the same. In a person who hasn't had surgery, it makes sense to recommend the same form of lymphatic drainage anyone else would receive. But surgery causes changes to the body. The lymphatics in the chest and arm may begin to function differently. After surgery, every person has a unique body and their route for lymphatic drainage treatment may have changed - the map of their body that the drainage will follow - should be unique too.
Now, with the ICG unit, the patient receives an individualized recommendation for their treatment. We teach the patient and their therapist to drain in a way that addresses their personal needs and will most benefit their body. This is a more targeted approach that prevents wasting time draining in a way that doesn't necessarily benefit the individual patient but was previously simply a general recommendation most clinicians would follow according to their training. As a result, we're getting excellent results.
However, I acknowledge that this is a departure from the standard training and treatment methodology. For some of you reading this article, this might come as a surprise or a challenge to your traditional method of treating patients.
Comments from Dr. Suami about using the ICG
I'd like to take a moment to go back to Louise's point about how the body's pathways change after surgery. When someone has surgery, their body naturally adjusts their lymphatics to find new pathways that allow fluid to drain.
In animal studies, I have seen that when a portion of a limb is missing or damaged, the body will search for a new way to clear fluid. As the body does this, it tends to rely on the remaining lymph nodes.
As the body recovers from surgery, it begins to create different pathways for lymph drainage. This can result in my therapy being often discordant with what traditional lymphedema therapists are taught. However, when you think about it, it's actually a simple approach. What we are doing is simply using the dye to track where the fluid will be expanding, then following that map along the body with proper treatment.
Louise Koelmeyer describes mapping with the ICG
Now let's look at how the ICG unit actually works and what we're seeing on the monitors as we use it in our clinics. As we use the ICG, we see the fluid moving through the vessels with the help of the indocyanine green dye on the monitor.
The ICG unit moves along the patient's lymphatic vessels and is assisted with manual lymphatic drainage (MLD) massage. If patent lymphatic vessels remain, we can use about the pressure of a fingertip - and we can see the fluid inside and watch as it moves along on the monitor screen. The patient can see it too and can watch the movement during the ICG assessment.
If we hit an area of congestion, that's called dermal backflow. It's trying to get through a normal vessel, but it's dispersing to the skin lymphatics and needs a lot more pressure to move that fluid through. That's generally in the more severe or advanced lymphedema cases that we see a large dermal backflow area. It means you'll need firmer pressure and slower technique in your massage.
So there are really two things we've learned here. First, we have identified the pathways that exist after someone has had a procedure like an axillary dissection. We didn't traditionally provide massage in the axillary area because we figured they had no lymph node located there any longer. But now we're seeing with the ICG that the fluid is trying to move through that area in the majority of the patients, so massage is warranted.
The other thing we've learned is that every person with lymphedema is encouraged to have an ICG assessment so we can personalize their treatment plan. Of course, it can be expensive. Currently, there is no way to lower the cost for the patient in either Australia or the United States.
My heart goes out to the people who can't afford the ICG. This is why I sometimes try to help patients by encouraging them to hold off on coming in for two or three treatments with me, build up a little money to use for the ICG assessment, then get the ICG and go from there. This is a practical way of allotting their financial resources in a way that will help them the most in the long run. The ICG provides a personalized plan, so moving forward we will always know they are getting the most out of their treatment.
In a much broader sense, everyone in the lymphedema field has much to learn from the ICG. Not every clinic in the world can afford the ICG or have the specialist skillset or training to have one available to use in their practice. However, any clinician can learn from what others are discovering through the use of the ICG and generalizing to their own practice.
This is the reason Dr. Suami and I enjoy sharing what we've learned about the ICG and educating other people. Every day, we are honored to use the ICG to help our patients understand their own unique capabilities of their bodies and manage their lymphedema more effectively.
About the Authors:
Dr. Hiroo Suami, MD, PhD, trained in Japan as a reconstructive microsurgeon and joined the Japan Society of Plastic and Reconstructive Surgery in 1999. He began his lymphatic research in 2001 at the Reconstructive Microsurgery Research Unit at the University of Melbourne, Australia. Dr. Suami developed a new radiographic technique to demonstrate the lymphatic system and received the Basic Science Award from the American Plastic Surgery Education Foundation in 2005. In 2009, he became the director of the microsurgery research center in the Department of Plastic Surgery at the MD Anderson Cancer Centre in Houston, Texas, where he worked with indocyanine green fluorescence lymphography in more than 250 surgical lymphoedema cases. He joined the Faculty of Medicine and Health Sciences at Macquarie University in 2015 and continues to work with the Australian Lymphatic Education, Research and Treatment (ALERT).
Louise Koelmeyer graduated from the University of Sydney, Australia in 1990 with a Bachelor of Applied Science in Occupational Therapy. Since then, she has built almost 30 years of clinical experience in clinical settings specializing in breast cancer rehabilitation and lymphedema early detection, education, and treatment. Louise works as an accredited lymphedema practitioner and is the Director and Senior Lecturer in the Australian Lymphoedema Education, Research and Treatment (ALERT) program at Macquarie University. She is also one of the Australian Principal Investigators working on the "PREVENT" Vanderbilt University research team investigating the early detection and management of breast cancer-related lymphedema.