A guest blog post by Crystal Garrett (pictured above at a ribbon cutting ceremony); continued from Part I.
When I won Miss South Carolina in 2007 (crowning pictured below left), I had successfully veiled this part of my life from everyone. My next stop was Miss America. The shoes that contestants were required to wear for the swimsuit competition called attention to the swelling. Audience members asked questions. I said I had a condition that caused my leg to swell and I wrapped it to keep the swelling down. Then I would try to quickly get away from that person. One woman snuck a picture of my leg as I passed on the title of Miss South Carolina. I cried in the dressing room before heading home.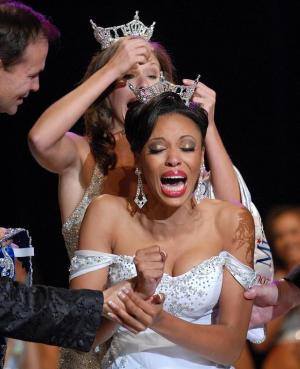 As I began to work more in the acting and modeling industry, I found it harder to hide. Most people find learning lines, or hitting your mark, or maybe even maintaining a certain weight to be the scariest things about the industry. The scariest thing about the industry for me… the wardrobe and shoe department.
I often find myself trying to stay off my feet the day before wardrobe fitting in an effort to keep my foot as small as possible because stylists always want me to wear shoes that are either flats or pumps, the worst kind of shoe for me because it hugs my foot in all the wrong places.
I once worked for a big-name client who did not ask me to work for them again because my swelling showed in the photographs. That tore me in two. I then took about a year off from modeling in fear that I would continue to be let go from jobs.
One of my best friends is a stylist in New York, and I remember when he first started styling me. I would cry or get lethargic about choosing shoes with him because I knew my swollen leg would be noticeable. He said, "Who Cares Crystal? You're beautiful and your foot is just a foot. Thank God, you have two feet. Now please wear these shoes!" I think he's the best.